KageKaze
Hierophant
Location:

St. Petersburg

Join Date:

10/2/2011

Posts:

1,018

Member Details

Just added Siegebreaker to the list and to my surprise his HP scales exactly the same as Azmodan from Live (1.0.4) to MP0 - MP10 as where Ghom only did this from MP0 - MP4.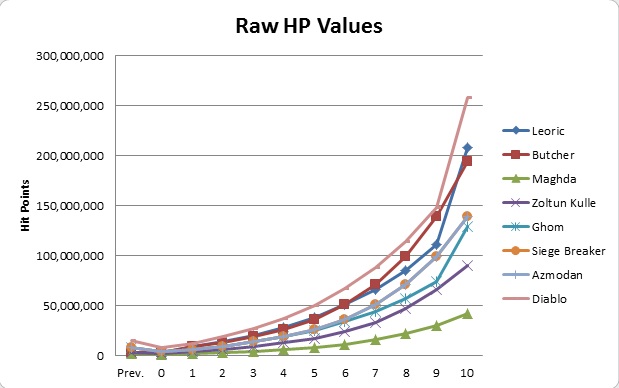 Interesting data. Looks like we won't get the information from the bosses that I thought we would. It seems their HP values have been set in a very deliberate manner. As you mentioned Azmodan and Siegebreaker are identical and Leoric not only passes Ghom in HP, he has an odd relationship with the Butcher. Leoric has more HP than the Butcher on all MP except for 7, 8, and 9.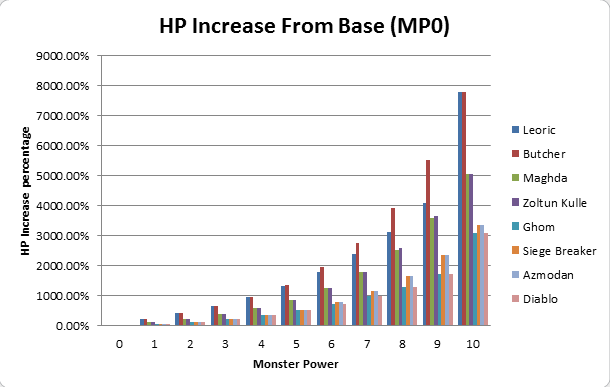 A look at the next chart gives us a good glimpse at the comparisons now. Every Boss has a companion that was boosted the same amount in MP10. The most boosted monsters are the easiest, being the Butcher and Leoric. They are followed by a distant second by Maghda and Zoltun Kulle.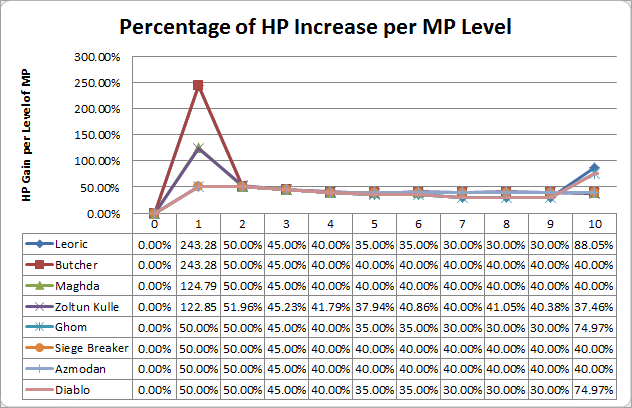 This last chart I think seems to be the most interesting. It looks like each boss's overall difficulty curve is set when the boss is put on MP1 and then is given a fairly linear HP boost per point of MP. Most bosses seem to get something along the lines of 40% HP gain per MP level up to MP10.
The exceptions here are Leoric, Ghom, and Diablo who all get a fairly sharp HP increase at MP10. Zoltun Kulle is the odd man out as most of his HP levels are uneven and seem to be very specifically set up.
Unfortunately it looks like this data isn't going to help us too much in determining normal monster HP gains. That's going to take some time due to the range of HP values that monsters can have...