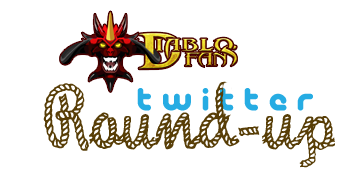 There has been a recent onslaught of tweets recently from the Diablo team. In an attempt to share all of the information given, I have rounded up these tweets into one easy-to-read article for you guys.
Let's begin with classes and some more information about them. Most importantly, people are eager to find out what other kind of skills the Demon Hunter will have. Unfortunately, not much information was shared because most of the Demon Hunters skills are still in the development stage. However, they did share with us that she will have more
mechanical based skills
than just the traps shown. She will also be the only class that can
dual-wield
ranged weapons and that the Monk and the Barbarian will be the only classes that can dual-wield melee weapons. Speaking of weapons, the looks of each
weapon
will not change depending on what character has it equipped. Lastly with characters, a person asked about the importance of each class' mobility skill and if it will be a necessary skill. Specifically, if there are any instances where a mobility skill must be used to gain access to somewhere else.
Official Blizzard Quote:
Diablo: @illthegreat Those are the choices that make builds interesting. You won't be purposefully gimped if you don't, though. No.

Moving on from characters, we also got some more information on how we will get to customize our characters stats, despite the auto-stat distribution. Although it is important to note that all of the core stats are going through some
reiteration
right now.
Official Blizzard Quote:
Diablo: @nitwoo Gems, Charms, and to some extent Enchants, Traits, and Items, although they generally enhance specific subsets of the base stats.

. Some more information has been shared about charms and what role they will play in Diablo III. Through the use of the talisman, each charm will be a
1x1
item and they will only be effecting core stats like a
+2 to vitality
. While most of our character will still be customizable through various means, the one thing that we will not be able to change is the
cap and regen rate
of some of the character's resource systems like Fury and Arcane Power.
PvP has also been a hot topic since it was announced and a lot of questions have come in trying to get more detail on the system. As of right now, PvP matches are set to a
3v3
setup. However, you will be able to create custom games that could include a possible free-for-all match. It is important to note that custom games will not earn you
rank
in PvP. With players using their same character from PvE to PvP, someone else asked if they were planning on allowing dual-specs for each playstyle.
Official Blizzard Quote:
Diablo: @Nielsdue No current plans for a dual spec or other quick-swap mechanic to change into a PvP build.

Rounding up this round-up, there was a tweet about the costume contest from this year's Blizzcon. Once again, a Diablo themed costume one the contest! Last year was the impressive
Mistress of Pain
and this year was a spot-on
Female Monk
. You can check out a
full interview
with this years winner with information on how she made the costume.
That finishes up this round-up. If you are interested in reading every tweet the Diablo team shares, you can always visit our
Twitter tracker
. We also encourage everybody to send their own questions to the Diablo team and hopefully you can get a response with some new information.