Mephisto's Lament
Que-Hegan
Join Date:

6/28/2008

Posts:

3,247

Member Details
Actually he is right. Anybody with a scientific degree is usually not religious. Most college professors are atheist, usually those in mathematics, physics, chemistry, philosophy, biology (especially this one), etc. There is no taboo in science, and saying that there is might be one of the most ridiculous things I've ever heard.

I'm studying lab medicine and I still believe in God and have complete faith in my religion. Science explains the big bang and all that crap, it still fails to explain where all the shit that "banged" came from. If it managed to find that out, where did the things that resulted in the things that resulted in the big bang come from? And so on. God is the final answer, and all one has to have is faith to believe in it all. If God went on CNN and went like "hey you blasphemous fuckers, how about you stop listening to all your black Metal shit, put down your liquor bottle, and worship me, EH?" it would be absolutely fucking silly, and there'd be no thing as faith then, and everyone would simply worship God; and where's the "test" in that?

All that I see in this thread is people discussing Christianity. What about Judaism? What about Islam? Can you please tell me how Islam has failed? You seem hellbent on showcasing Christianity's failure, can you please tell me Islam's "wrongs" ? Let's assume for the sake of example, that the Bible is wrong here and there because it has been written again and again by that guy and that guy, with plenty of differences between people with regards to several subject. Islam only has the Quran. Islam only has two sects, differing in slight things, all things considered. Since some of you like to think that they know everything, and therefore everyone who is religious or even believes in God is a fucking nutcase, please tell me what you KNOW about Islam, what you think it has gotten wrong in its Holy book, what you think science has disproved in the Quran...etc. Oh wait, you haven't read the Quran? You don't know anything about Islam bar the fact that Muslims are turban wearing terrorists? Heh, thought so.

What makes Christians 'Christian' is Jesus "those who believe in me are to be granted eternal life", the Christian Bible (New Testament) is entirely Jesus' story (written by different accounts), so basically no matter what (be it your a criminal, murderer, humantiarian, or average joe) if you truly believe in Jesus Christ and that he is the Son of God and died on the cross for all of our sins (past, future, and present) then you shall be granted eternal life, that's Catholicism/Christianity in a nutshell.

And I did give specific examples, again the 'taboo' of science is our morality. Our morality is the reason why people don't diesct other people for the sake of studying anatomy (like Da Vinci did) or why we don't clone humans even though we have the technology to do so. As long as this morality exists (and it will as long as we are human beings) then religion shall exist, why? Because religion is basically the refelction of humanity's moral values.
Umm, I wasn't talking to you? Not to come off as a dick, but I really wasn't.
No it's not. If you're really studying lab science then you should know about the scientific method. You should know what unknowns are. Just because YOU think God is the only answer, does not mean that someone with a rational scientific mind can't see other answers. Do you know anything about the universe? How do you know how the universe formed? How do you know what was before it? The difference between you and me is that I am patient. I don't go straight to the entire "God is the ONLY answer" bullshit. I understand that I know NOTHING about the world around me, or even the world that isn't around me. Your perception on this is only one sided, and that to me, is a terrible way to get into whatever scientific field you're getting into.
I never said that everyone should believe in God. I was only voicing my own opinion on the matter, and telling everyone why "I" believe in what I believe. I never told you that your way is absolute nonsense, and that you should follow MY way of thinking, my way of life, and my religious ways. I'd also appreciate it if you didn't call my examples "bullshit", because you're walking on an extremely thin line, and I'll certainly get you banned the next time you go out of line when addressing me; and this time, it'll be for good. My perception isn't one sided. It took science a whole lot of time to come up with the big bang theory, which in itself isn't even completely concrete..good luck on that waiting thing..I doubt they'll find out everything about the universe before you bite the dust. I appreciate your input about the scientific field that I'm getting into, but you can only dream to reach the level that I'm currently at, and the place in life I'm currently in.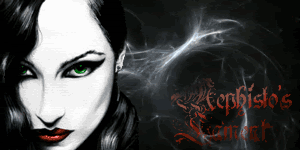 Rise and rise again, until lambs become lions