ScyberDragon
Nephalem
Location:

Superior

Join Date:

1/22/2009

Posts:

8,816

Member Details
Places
(Written by liquorice)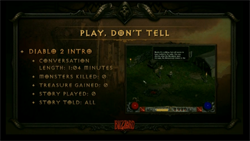 Storytelling in Diablo III
Do you remember the intro to Diablo II? First thing you see is a one minute long conversation by our friendly camp keeper Warriv. With Diablo III the game designers are taking a big step away from that way of story development. The main philosophy they have for storytelling is the concept of Play, don't Tell.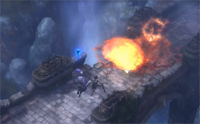 What that means is that long drawn out conversations slows down the gameplay, something they want to avoid in Diablo III. Instead they will focus on bringing in storytelling on-the-go. Conversations will be kept rather short and spread out. When possible they also want you to be able to play while listening and a video example was shown where a player engage fighting monsters while listening to story details told by a quest character.
Something that lore fans definitely will enjoy is lore books. Lore books are books found within the world that tells a story. The author of the book will read out loud what is written and provide additional flavor to the game while you keep fighting monsters. This is another example of the opt-in storytelling that they want to include for Diablo III.
Creating the environment
In the panel we got to follow the team as they explained how you take an idea and make a concept, how you take that concept and make it to a 3D environment with all the flashy effects that we see in the game. The example is from an area called the Bastion Keep. A huge fortress that will be under heavy siege from the demon horde.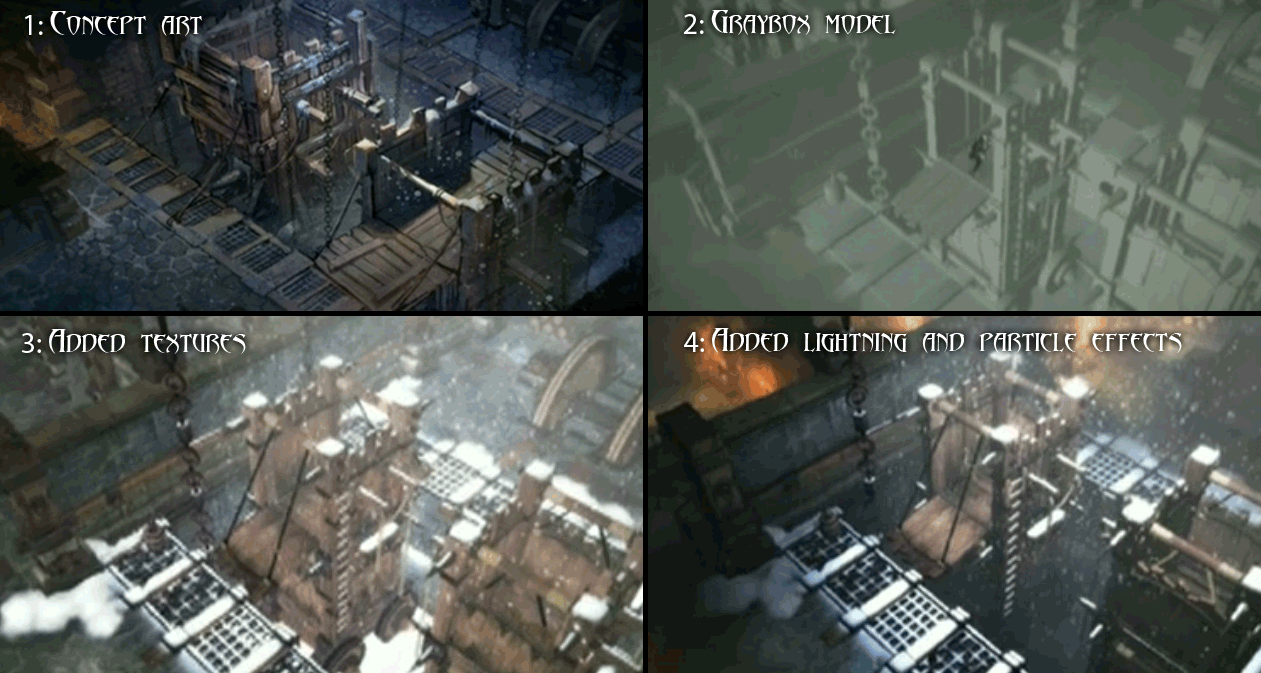 Step 1 is the concept art. The picture that sets the feel for the area with materials, shapes, colors and all kinds of detail. The team works hard to get every detail just right so that it is easier to translate into the gaming world.
Step 2 is when the modellers start their work. A graybox (non textured 3d model) is created so that you can see how the models look in game.
Step 3 is when the textures are added, this adds colour and material into the game and it's starting to look like something from the actual game.
In step 4 the tech staff gets to add in lighting and particle effects which makes the world come alive. Destructible objects are added to enhance the gameplay feel.
It's really amazing to see how much thought is going into every part of the game.
Monsters
(Written by Zhar)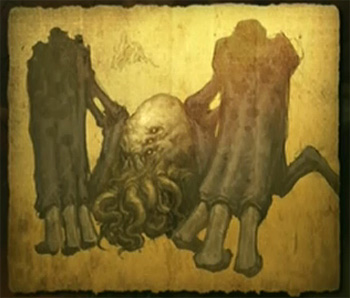 Words cannot describe how impressed I was with Blizzard's new take on monsters. After everything from monster development to AI was covered in the panel, I knew Blizzard's new direction would be a good thing for Diablo III.
Not to say they're not keeping the hordes we grew accustomed to in Diablo II, or the memorable encounters of Diablo I. It seems they're trying to strike a balance between the two, which was quite evident in gameplay videos, and panel discussion.
The Balance
Load up
this video
, and fast forward to 2:35. Notice the monsters? They seem to have struck a good balance between hordes of cannon fodder, and interesting combat. There is one easily identifiable "boss monster" to focus attention on, accompanied by hordes of lesser monsters to keep a fast pace, and destructive feel to combat. Even normal encounters seem to have this feel to them, with the new fallen hierarchy, or the Cultists who transform into demons. It's this dynamic blend of monster types, as well as behavior and scripting that will keep encounters fresh and interesting.
Encounters
The panel also discussed various ways encounters will be initiated. For example, zombies suddenly popping up while walking through swampy areas as mentioned, and ghouls scaling cliff walls has been shown in several gameplay videos now. Before, skeletons popping out of barrels were the only "surprise monsters" we ever encountered. Now, it seems as if we'll be running into more and more encounters where we will not be able to initiate it ourselves, we will be kept on our toes, and always on the lookout for ambushes. There also seem to be several special monster encounters, such as a thief monster who, while difficult to catch, gives out very good loot.
AI and behavior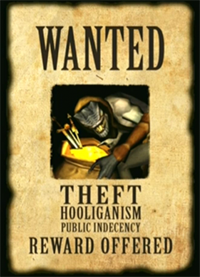 Monster behaviors were also briefly discussed. One monster in particular was used as the example, the "Gravedigger". As the name suggests, this monster is usually found in graveyards, and is in a passive state before the player draws near. He will mind his own business, dig graves, and shuffle around the cemetary. Upon drawing closer, the Gravedigger will go into an alert stance, picking up his shovel as if it was a weapon, looking around, and moving more erratically. Upon drawing even closer, the monster would attack the player. However, Blizzard found that most players wouldn't let him stay alive long enough to experience all of his animations. Thus, a balance was found between monster flavor and gameplay pace. Keep in mind that this is a massive change from the previous games, in which if a monster was on screen, it was almost guaranteed it was either attacking you at range, or closing the gap to engage you in melee combat.
Changes to monster AI have also been made. Previously, monsters would pursue the player endlessly, making it difficult for certain classes to put distance between themselves and their enemies. Now, with minuscule delays between attacks, pursuit and run/stop movement players will be rewarded for movement. It will be possible to micromanage your character to avoid damage and maximize efficiency.
Items -
(Written by ScyberDragon)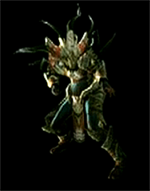 Armor

There are eighteen levels of armor from the first "naked" look to the top level. Changing from Diablo II is that the looks of the gear will not go back to the basic looking models when starting in the new difficulties. The eighteen levels will be increasing from Normal through Hell so your character will increasingly look more awesome. Part of this is also the thematic armor for each class. While every class can wear all armor, it will look different depending on who is wearing this. A full helm look on the Barbarian may look like a crown on the Monk. Tying in with this, the actual icon of each item will also look different depending on what class you are playing so that it matches how it looks when equipped. Lastly on armor, dyes have been stretched to about twenty colors. These dyes will be bought, crafted, and dropped by monsters is varying rarities. Some examples of new armor sets were shown including my personal favorite of a Witch Doctor having a helm with moving tentacles on it.

Crafting

Along
with items, crafting through Artisans is seen as means to compensate for items that do not randomly drop for you. With the random drop system of Diablo, it is possible to clear an entire area or Act without a single pair of boots or gloves dropping for you; this is where Artisans come in. The UI for the Artisans have all been created to be a set standard to help ease confusion from one to the other. With flavor pictures added to the UI to help signify each Artisan's trades. There are still the same three Artisans will be in the game.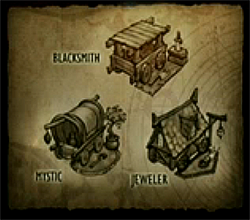 Mystic - The mystic is still in charge of all forms of magical crafting. From enchanting weapons to selling charms, she will be dealing with aspects to help the magical side of your character. Tying in with this theme, the Mystic's wagon was shown with a more naturalistic theme with softer features. On a side note - Identifying has been added to the Mystic's abilities leaving up curiosity to Deckard Cain's role.
Blacksmith - The Blacksmith, still in charge of weaponry and armor, will boast a harsher looking more sharper wagon. Donned in wood and metal, the shop will continue to grow with bigger and badder items
Jeweler - The Jeweler will be adding, removing, and combining the fourteen different levels of gems. His wagon will boast a more ornate look since the gems themselves will be harder to display. The range of gems starts from; chipped, flawed, normal, flawless, radiant, square, flawless square, radiant square, round, flawless round, radiant round, star, flawless star, and finishing at radiant star with only the first five levels dropping and the rest needing to be crafted. There are six different types of gems, all the same form Diablo II minus skulls.