Season 15:
Season 15's theme is Boon of the Horadrim! This Season, all Horadric Caches earned from bounties will be doubled. This means that each time you complete a full set of five bounties in an Act, you will receive not one, but two Horadric Caches, for twice the bounty rewards! Below, we've posted some of the top builds on DiabloFans for each class last season, and information on the Level With a Cause charity event! Also, if you want to try something new this season, we suggest looking into the Solo Self-Found League!

Season 15 begins on Friday, September 21 at 5:00 p.m. PDT in North America, 5:00 p.m. CEST in Europe, and 5:00 p.m. KST in Asia.

---
Diablo Netflix Series Confirmation:
Andy Cosby, screenwriter for the new Hellboy, has taken to twitter to confirm that he is in final talks to write and show-run a new Diablo Animated series on Netflix! News surrounding Diablo has been heating up as of late, including a rumor that Diablo III will be a free PlayStation Plus for October! Do you think this means big news for BlizzCon? Let us know in the Comments!
UPDATE: This tweet has now been deleted.
I guess I can confirm I am indeed in final talks to write and show-run the new DIABLO animated series for Activision and Netflix. It's very exciting and I hope to the High Heavens it all works out.

— Andy Cosby (@andycosby) September 20, 2018
---
Level With a Cause:
#LevelWithACause (#LWAC), a coalition of streamers from both Twitch and Youtube, will be uniting once again for a 5th charity fundraising event during the first three days of Season 15 in Diablo 3. These streams will be viewable on several Twitch and Youtube channels. Viewers will be asked to donate to Save the Children during these live-streams.
#LWAC was founded prior to the start of Season 11 of Diablo 3. This group of streamers ran a similar charity event during the opening weekends of the last four Diablo 3 season openers, raising over $35,000 for charity. Those previous events supported St. Jude's, Take This, and Save The Children respectively. During the last event in Season 14, the LWAC team was able to raise over $11,400 for St Jude's Children Research Hospital. This was, to date, the initiative's biggest event. LWAC hopes to continue to grow and raise even more money for deserving charities in the future.
In the U.S. and around the world, Save The Children gives children a healthy start in life, the opportunity to learn, and protection from harm. When crisis strikes, they are always among the first to respond and the last to leave. They do whatever it takes to save children, transforming their lives and the future we share.
Update: #LWAC has now ended for Season 15!
---
Season 15 on Nintendo Switch:
With the Diablo 3: Eternal Collection releasing for Nintendo Switch on November 2nd, it was recently confirmed that Nintendo Switch players will be able to participate in Season 15! The Eternal Collection comes with the base version of Diablo 3, the Reaper of Souls Expansion Pack, and the Rise of the Necromancer pack! Do you plan on picking up the game for Nintendo Switch? Let us know in the Comments!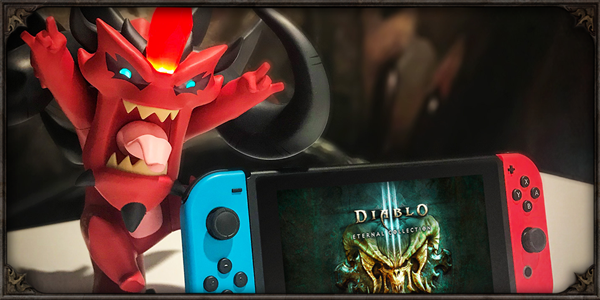 ---
Challenge Rift - Week 65
We suggest that you do not finish Challenge Rift 64 until Season 15 begins in your region. Waiting will allow you to open the Challenge Rift Cache on your seasonal character, giving you a boost to gold, crafting materials, and Blood Shards! If you are curious how Challenge Rift builds are chosen each week, you can view this official blog post!

---
Popular Builds from Season 14:
These are some of the top builds for each class during season 14! This is not a conclusive list, but instead one that provides some variety for several class builds that were popular on DiabloFans during the previous season.

---

---

---

---

---

---