Artisans Update
Blizzard is considering an option to reset your Artisans:
Official Blizzard Quote:

Artisans are based on progression at the account level and as such there is no way to reset their levels at this point. That being said, we are considering adding an option or ability to reset artisans for people who truly want to start from scratch.

And as many of you already know, the Official Community site is getting updated soon with new Artisan information.
---
No Ethereal Items?
Official Blizzard Quote:
Will the ''indestructible'' stat return in forms of changing items or as stats on dropped items or will it return at all?
There are no current plans to add ethereal (indestructible) items to the game... mostly because we do not think it feels super awesome to have an item that does not need to be repaired.
There is of course the possibility that we might add self-repairing items to the game at some point :-)
---
Kotaku's Book of Cain Preview
Our own Scyberdragon will be doing a review of this awesome book soon, with much more detail.
---
New Official Fanart
Blizzard published a whole lot of
great fanart
today:
---
As shown earlier today:
Here's a quick rundown of all the meteor runestone effects shown (which is all of them):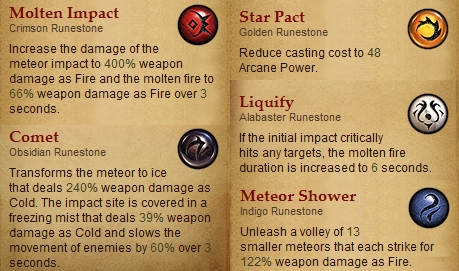 A super thanks to Doomscream for the heads up.