overneathe
Wise Elder
Que-Hegan
Join Date:

7/31/2011

Posts:

4,908

Member Details
Important:

The winners of our Facebook contest have been chosen and contacted. Only one has replied so far. Check your Facebook messages or the prizes might just go to someone else!
Patch Information in "the Next Few Days"
It looks like the next patch is really close. Stay tuned!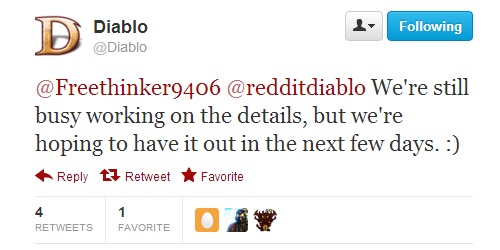 ---
Constructive Threads
The Blues have no illusions that the game is in a perfect state, but threads that constantly point that out don't help them much.
We are of course interested in reading constructive feedback on why you do not like Diablo III, but threads like this one are far from constructive.... this thread does absolutely nothing to change or improve things, and although it did get you some attention from us, I am sure is is not the kind of attention you want!

stop acting like everything is alright with this product
This I think constitutes a sweeping statement, and this is exactly the kind of post that doesn't benefit anyone except perhaps those who are looking for someone else to highfive on how much they do not like the game.

And just for the record, nowhere are we acting or pretending Diablo III is the perfect game, in fact we have previously acknowledged more than once that Diablo III needs more things to keep people engaged and having fun.
---
Diablo 3 Music Video
In order to properly celebrate the first part of this news article we have something really special. Forum member Willyum and his band
Hope Lies Within
have made a music video for Diablo 3. You can see the video below and visit the original thread
located here
.