Update: Selling and buying gold on the RMAH has been enabled.



Selling and Buying Gold Live on RMAH


Players on the US servers can now buy and sell gold using the RMAH.


---


Winning at The Crumbling Vault by Apoc



Like me, maybe you stumbled on this zone while leveling. Not thinking twice about it - you enter. What seems like a trivial task at first, can quickly escalate into one of the most stress-induced experiences of the game. In the Crumbling Vault you have 3 minutes to find the

Vault Treasure Room, located at a random exit tile in the dungeon. In this room, players are rewarded with a resplendent chest, 2-5 regular chests, and a healing well. Since magic find doesn't work on chests (as of patch 1.0.3) you may still want to complete this area for the

Crumbling Vault achievement. If that's not enough incentive, there can spawn up to 3 elite monsters in this small zone, including goblins, making it competitive in farming density to the

Vault of the Assassin. We'll show you how to get it all in the same game: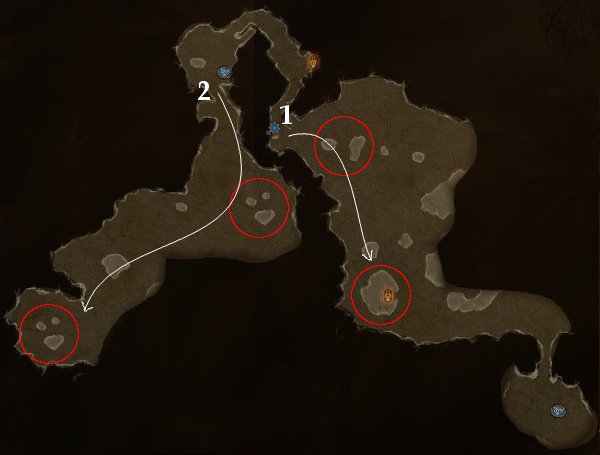 Set your quest to any point on or after City of Blood.
Take either the Road to Alcarnus or Khasim Outpost waypoint and travel along routes 1 and 2.
If at any point you find The Ruins Level 1 or Chamber of the Lost Idol dungeon entrances at the red circles, exit and restart the game. Your new game should place you at the checkpoint at route 1.
Once you find The Crumbling Vault​, enter it and immediately portal back to town (don't worry - the timer only ticks when inside the dungeon).
Run back to The Crumbling Vault from the nearest waypoint.
After re-entering, do your best to skip all the monsters and you should be able to find the exit before the timer runs out.
Collect your quest reward and chest loot, and use the dungeon exit to the Stinging Winds.
Run back to the nearest waypoint and take your open portal from town back into The Crumbling Vault.
Clear all the elite monsters and collect more loot.
Note about #9: once the quest is over the only way to enter the dungeon is to portal or take a teammate's banner back in, so try not to die at that point. The hardest part is skipping all the monsters. There are some areas in the dungeon where the terrain is close enough to Teleport or Leap across - take advantage of that if your class permits.


(Some possible configurations for the

The_Crumbling_Vault_(Zone)):


Overall, it might not be the most efficient farming spot due to travel time, but it can be a fun challenge to overcome. And who knows, maybe if they bring back magic find for chests down the road it could make it worthwhile.


---




Diablo III Game Guide Updated


The official game guide has been updated with a few new pages today. They have also added a few new skill videos but unlike before there is no need to watch them for "new zones" like the old days.

However with the new pages, some rather interesting information has been added this time around, such as magic find information, dual-wielding and two handed weapon information and more. Make sure to check each page out, as some have a lot of new information that is rather useful. We may be seeing more updates like this from the suggestions submitted awhile ago.



(

Loot-hoarders and demon-slayers, take note: our Diablo III Game Guide on Battle.net has been hit with a volley of new information. Today's update includes:

Several more videos of (unruned) skills are also available in the skills sections of each class page:

Barbarian



---
Costume and Dance Contests at gamescom 2012
Ready to exhibit your talent at gamescom 2012? Become your favorite character and flaunt your creativity in theBlizzard Costume Contest on Saturday, August 18. Be the terran, goblin, zerg or pandaren; mage, zealot, monk or demon hunter you've always wanted to be. The choice is yours!
The winner will receive some awesome prizes from our partners: an
XMG P502 PRO Gaming Notebook
by
Schenker
, a
SteelSeries Diablo® III Mouse
, a
SteelSeries 7G
keyboard, a
SteelSeries QcK Diablo® III Edition
mouse pad, a
SteelSeries Diablo® III Headset
, and a Mega Bloks
Deathwing's Stormwind Assault
set.
Eager to show off your moves? Choose a World of Warcraft race and put on your dancing shoes for the Blizzard Dance Contest on Sunday, August 19. Get ready to waltz like a worgen, boogie like a blood elf, or tango like a tauren.
The winner will receive an
NVIDIA GeForce GTX 6 Series
graphics card, a Mega Bloks
Goblin Zeppelin Ambush
set, as well as the same SteelSeries mouse, keyboard, mouse pad, and headset listed above.
If you'd like to sign up for the costume or dance contest, just send us an email at
[email protected]
with your name, date of birth, and a description of your dance or costume, with either [costume contest] or [dance contest] in the subject line. We expect swarms of competitors, so be sure to contact us as soon as possible. We'll let you know if you're selected to participate.
our website soon, so be sure to check back. You can also visit our
activities page
for details. Experience our costume and dance contests firsthand at the Blizzard Entertainment booth in Halle 6.1 (B21) at the Koelnmesse in Cologne, August 18 and 19 respectively.
---
Inferno Barbarian Budget Video
(
Kripparrian created a budget Barbarian where he decked out his mercenary and Barbarian with only 445,514 gold and killed Diablo. So this shows that you can get through Inferno and not have to spend crazy amounts of gold on the items

Now where is that video...
link