M8Harry
Zealot
Join Date:

11/4/2011

Posts:

137

Member Details
I will be turning off steam, getting a big drink to have close to hand and settling into the comfy chair and taking in every inch of the game as i see it. Leaving nothing unclicked and no minion of evil alive (or undead as the case may be) I want to take in all the lore and hear all the local gossip. The first play through will be very slow and steady but the second i think will have a tad more farming and rare spawn hunting.

Then onto Co-op with some friends the weekend following release. A carton of beer, 2 mates and D3 the weekend is complete.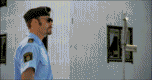 Super Cop! He knows where you live, he knows where you sleep.