BlizzCon Floor Map
The floor map for BlizzCon 2018 has been revealed by Blizzard. The biggest change from previous years seems to be a re-oriented Mythic Stage setup in Hall D with a Diablo III Demo area and "Horadric Retreat" section. Curiously, there is also a large open unmarked area just to the left; however, it could just be there for accommodating the amount of foot traffic in and out of Hall D.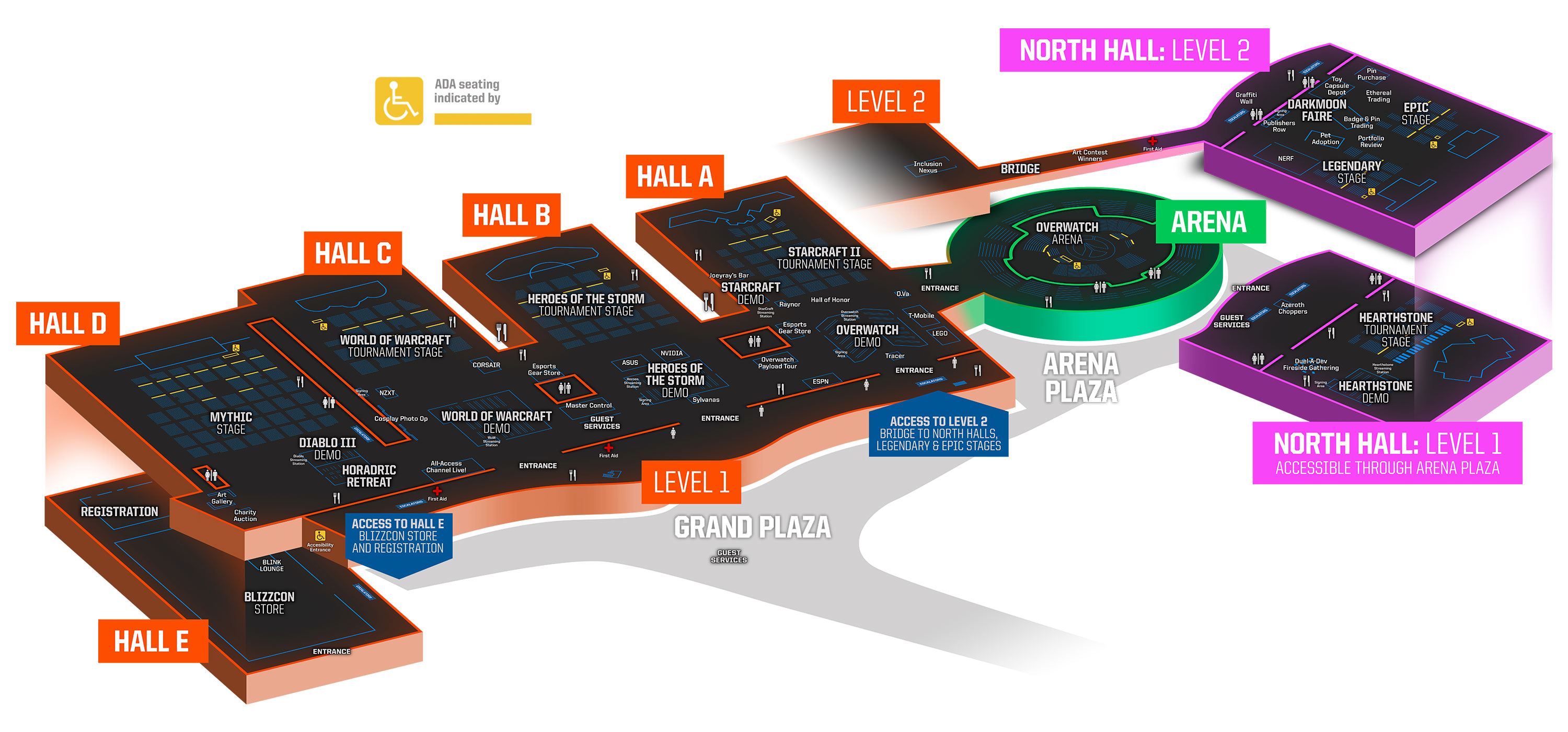 ---
Nintendo Switch Bundle
A Diablo III: Eternal Collection bundle is coming to Gamestop on the second of November for $359.99. It features a custom Diablo III themed console, carrying case, and it comes with the Diablo III: Eternal Collection! You can order it here.
A Nintendo Switch Diablo III: Eternal Collection Bundle is coming exclusively to @GameStop on 11/2 for $359.99 MSRP! Includes a Diablo III themed #NintendoSwitch console and dock, carrying case, and a download code for the game. https://t.co/8dNNKhA9v8 pic.twitter.com/Qmg5tYjzia

— Nintendo of America (@NintendoAmerica) October 15, 2018
---
The Legendary Hunt Begins
Blizzard is hosting a Legendary Hunt across the internet and a few real-world locations! You can win copies of the game, real-life legendaries from Volpin Props, or even the Diablo III: Eternal Collection Nintendo Switch Bundle!
Originally Posted by Blizzard Entertainment(Official Post)

Whether you're a Diablo veteran or a complete newcomer, chances are you love treasure. To get you in shape for Diablo III Eternal Collection on the Nintendo Switch, we're inviting you on a treasure hunt. Get ready to stretch those loot-chasing muscles and get your hands on some sweet (and very real) rewards!

We've hidden items across the internet (as well as in a few real-world locations), and it's up to you to find them. Don't worry—we'll be giving you some clues on where to look. Learn more below!

In the coming days, we'll be sharing some clues on our Twitter page. Once you decipher them, visit the corresponding location (online or in real life) to find an item or QR code. Click the link or scan the item you found, and you'll be whisked away to your collections page, where you can track all the items you've collected so far.

The items you find earn you entries into a prize drawing, where you could win all kinds of amazing treasures. The number of entries you get for each item you find varies on its quality, so keep an eye out for those Legendaries!

Among the prizes up for grabs are copies of the Diablo III Eternal Collection Nintendo Switch Bundle, digital copies of the game, and various collectible goodies. You can also earn real life versions of some of the items you'll find on the hunt! These are one-of-a-kind artifacts, brought to life by the crafting masters at Volpin Props.

If the idea of having your very own real-life Legendary item sounds appealing, be sure to follow us on Twitter and be on the lookout for the first clues.

Think you have what it takes to solve all the clues and hunt down these treasures? There's only one way to find out, nephalem! Good luck on the hunt, and may the best adventurer win.

For contest rules, see here.