At Least Two Weeks for PvP Blog
Looks like we'll have to wait just a bit more.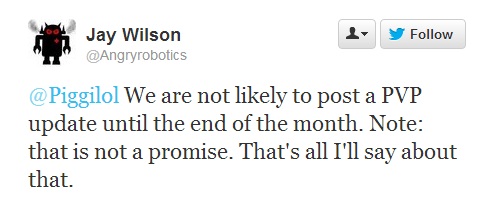 (
Hopefully the holidays will not be all silent, at least I hope so.

I get that you guys are eager to know more about what is being worked on to improve the game, but I don't have any new information on this right now unfortunately. I do know that we have some updates on the way though, amongst them a PvP blog... this PvP blog was announced previously as coming very soon, but it seems it is just soon now.
---


Bug with Health Link Monsters
Turns out there is currently a bug going around involving Health Link monsters. It's being looked at.



(

We didn't make any changes to way Health Link works in 1.0.5. To clarify, this is how the affix should function:

1. You hit a monster with the Health Link affix.

2. If you successfully deal damage, that monster checks for any other monsters with the Health Link affix that are nearby (nearby = 50 yards).

3. If there are monsters nearby, the damage amount is immediately divided equally with them.

4. If there aren't any monsters nearby, that damage isn't shared and is taken fully by the monster you hit.

Now, there is bug that's currently active that makes it so that Life Steal isn't as effective against monsters with the Health Link affix (the amount of life stolen is diminished when attacking Health Linked monsters), which could account for what you've experienced.

(Sorry to chime in a bit late on this thread, but this was something I wanted to check on with both QA and our development teams. I hope you'll forgive my necro!)

This doesn't appear to be mentioned? am I wrong? Please direct me elsewhere if so.

Nah, you're not wrong. I'll hit up our resident QA representative tomorrow and let him know that the list appears to be a little out of date (the bug was confirmed pretty recently, but I agree that having accurate and up-to-date info is very important).

So the bug regarding life steal is basically that instead of its intended behaviour, which is to have all parts of the reallocated damage count as coming from the player, only the initial reduced damage to the primary target is being counted as "by the player", and the other distributed damage amounts to nearby mobs is being counted as "by the primary target", thus not counted as damage total for use in the life steal returns formula, yes?

More or less. With this particular bug, you're basically only receiving Life back for the damage done to a single enemy in a Health Link pack (i.e. the amount after it's been distributed) rather than the full damage you dealt with the attack to the pack as a whole.

Numbers wise, players are probably receiving about 1/3 less Life back on average when attacking Health Link monsters.

Any idea on when a fix for lifesteal with health link would be available? Is this a hotfixable thing or do we have to wait for a patch?

I'm honestly not sure. We're still looking into possible solutions, so I can't say if can be hotfixed just yet or when a fix will be available.

Thank you.

Just an FYI, this issue has been added to the Known Issues list.
---


Error 3007 for Aus/NZ Area Users
It looks like there are currently some ISP issues that make Aus/NZ gamers receive error 3007.



(

We're currently looking into an issue AUS/NZ users are having when trying to connect to the US Diablo III servers. This thread will be updated when we have any additional information.

In the meantime, this workaround of changing to a free DNS provider is reported to be helping.

As posted in the Aus/NZ forums:

DNS settings are specified in the TCP/IP Properties window for the selected network connection.

Example: Changing DNS server settings on Microsoft Windows 7

Go the Control Panel.

Click Network and Internet, then Network and Sharing Center, and click Change adapter settings.

Select the connection for which you want to configure Google Public DNS. For example:

To change the settings for an Ethernet connection, right-click Local Area Connection, and click Properties.

To change the settings for a wireless connection, right-click Wireless Network Connection, and click Properties.

If you are prompted for an administrator password or confirmation, type the password or provide confirmation.

Select the Networking tab. Under This connection uses the following items, select Internet Protocol Version 4 (TCP/IPv4) or Internet Protocol Version 6 (TCP/IPv6) and then click Properties.

Click Advanced and select the DNS tab. If there are any DNS server IP addresses listed there, write them down for future reference, and remove them from this window.

Click OK.

Select Use the following DNS server addresses. If there are any IP addresses listed in the Preferred DNS server or Alternate DNS server, write them down for future reference.

Replace those addresses with the IP addresses of the Google DNS servers:

For IPv4: 8.8.8.8 and/or 8.8.4.4.

For IPv6: 2001:4860:4860::8888 and/or 2001:4860:4860::8844

Restart the connection you selected in step 3.

What the hell I play HC I dont want to risk using some public dns's.. Like seriously when is this going to be fixed? So now Im told to use public DNS's and when that causes my hardcore hero to die blizzard will say its my fault? Serious? Sheesh... This is a joke right?

It's a temporary workaround. You don't have to use it. No one is telling you you have to use a public DNS provider instead of your ISPs. You can wait until we've isolated and fixed the issue too, it's your choice.

There's a little more info over in the General Discussion forum actually. Apparently, it's an ISP issue and something we've no control over.

http://us.battle.net...49246?page=3#57

Please post in that thread if you have any further questions or comments.



---


Marriland 3DS Giveaway
Our Pokemon sister site Marriland has launched a giveaway for 5 Nintendo 3DS handhelds! The only thing you have to do to enter the giveaway is an answer a question located in this thread.