Update:

If you have artistic talent (which I know some of you do), you might consider submitting an entry to the Blizzard Holiday Card Contest. The card must be based on the Diablo, StarCraft, or Warcraft universes, or all three. There are some pretty cool prizes if you win, so go check it out.

Facebook Initiative Half Way Over
It's crazy to think the beta's been live for over two months. Especially since a lot of us have waited a very, very long time for this game. If you still haven't filled out Blizzard's Facebook Sweepstakes thing, what are you waiting for? There's still roughly two more months of opportunity to get selected into the beta (Source)!

Also, we have confirmed reports of Opt-In invites going out as well. There have been many theories as to how Blizzard pics the lucky opt-in candidates, none of which are founded in evidence; but it is interesting to note that Blizzard undoubtedly takes your internet connection speed into consideration (Source). Either way, good luck everyone!


---

Beta Key Sweepstakes Confusion
Blizzard has decided to clear some confusion about how the beta sweepstakes and opt-in process works


Official Blizzard Quote:
Hey everyone!
We've noticed there's been a bit of confusion surrounding the Diablo III Beta Key Sweepstakes, specifically in terms of how each winner will be notified and eventually granted access into the beta. To help clear things up, we wanted to quickly clarify how that whole process works.
While players who are selected through the official opt-in will have their Battle.net accounts automatically flagged for beta access, the same will not occur for the winners of the Facebook sweepstakes. Instead, sweepstakes winners will receive their Diablo III beta key via email from BlizzardContest@blizzard.com, and they will then need to activate that key through Battle.net by completing the following steps:
1) Log into Battle.net Account Management (
https://us.battle.net/account/management/
)
2) Select "Add or Upgrade a Game" from the "Games & Codes" drop-down
3) Under "Activate a Game Key," enter the key code into the provided box and click "Activate Game"
If the beta key is valid, the Diablo III beta will be added to the selected Battle.net account and can be downloaded here:
https://us.battle.net/account/management/download/
For more information about the Diablo III Beta Sweepstakes, be sure to check out the official entry page and FAQ:
Official page -
http://www.facebook.com/Diablo?sk=app_6009294086
FAQ -
http://us.battle.net/d3/en/forum/topic/3342018236
Good luck!
---

Collector's Edition Items Updates
Bashiok shed some light on some noteworthy questions yesterday and today regarding the CE:


Official Blizzard Quote:
Can the wings be left on indefinitely, or are they an on activation thing with a longish cooldown like the toys from wow archaeology? Are the dyes in limited supply, or unlimited? Is it a pattern we get at one of the crafters?
The CE dyes are infinite in their use. Keep them forever, dye as much stuff as you want "Cloud" or "Smoke" colored. The colors are unique to the CE.
The wings are an item you hold in your inventory (don't take up an equipment slot on your character), and it's a toggle. Use to turn on, use again to turn off. They're awesome looking, and stack with other class effects like Shadow Power and Archon.
Official Blizzard Quote:
Are the wings like a one time thing? As in one per account on the first character you make? Or does every character on that account get the wings when they are created?

It's 1 per *character* you create. You can't drop or trade them, and can't sell them on the AH, of course.

For more info on the Collector's Edition, go here.


---

Bipolar Auction House
For a little over 24 hours, the Auction House was down, which makes me a little glad they're not shipping this year :).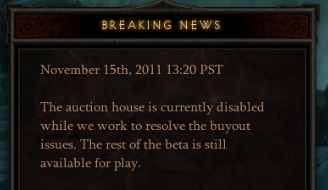 Thankfully, they seemed to have fixed the issue.


---

24000 Error Update
Thanks to committed testers, Blizzard received invaluable debug info, and they were able to squash a significant bug that was breaking Battle.net. If you are having any issues with the game, go help them out by submitting your D3Debug.txt file located in 'C:\Users\%username%\Documents\Diablo III':


Official Blizzard Quote:
Thank you all for posting your logs. These logs have been very helpful to the Battle.net team.
Now that we have a lot of logs that show testers' accounts broken, I was wondering if anyone could post logs that were generated when the game WORKED and the became corrupt from this bug.
As a reminder, D3Debug.txt re-writes itself every time you start a new game, so here are the steps to get the perfect logs we are looking for:
1. Log into the Beta with an account that works.
2. Play the Beta and use the Auction House.
3. If you encounter the Error_24000 or other issues, IMMEDIATELY copy the D3Debug.txt file to your desktop and post it to pastebin.com. Don't forget to remove your e-mail address
Thanks for your help with this guys. Having logs of broken accounts and accounts that became broken would be very helpful.
---

New Diablo 3 Wallpaper
Blizzard just gave us a new D3 background! It's totally awesome (link to all sizes):


---

Vote for Diablo 3
Once again, Spike TV is doing their annual Video Games Awards (VGA). And once again, it's time to go vote for Diablo 3, of course!