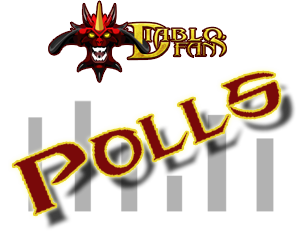 With the recent information from GamesCom and the end-game Panel that Blizzard conducted, we are curious as to how you feel about it. What kind of D3 end-game would you like to see, if any? Keep in mind, currently Blizzard is only planning on having the Inferno difficulty act as "end-game" for the release of Diablo III. Post-release though, they have some cool stuff planned, so let's let them know what it is that we want to see! :).


Infinite Dungeon: Imagine a never-ending dungeon (with a timer to track your duration), where your progress is measured by how far you make it (based on checkpoints!) and how long it takes you.
Horde Mode/PvP: Something very similar to the Horde Mode in Gears of War, where you must survive wave upon wave of monsters with, while in the Arena!
Pandemonium Events: Unique, hard to achieve content, similar to Diablo Clone, and Uber Tristram from Diablo II.
Unicorn Level: I think this speaks for itself, ;).
Inferno is good enough: Don't want anything extra and you'd rather just farm for items...
Other: If you have a different or better idea, let us know in the comments below!

If you want to watch the panel, courtesy of a french fansite, Diablo-3.net, otherwise continue reading for this weeks' DiabloCast!

In our previous poll, we wanted to know what ComicCon swag you were looking forward to the most... And the Tyrael Hoodie won by a landslide!


---


This time around in the DiabloCast, PhrozenDragon joins us as we talk about the new information from GamesCom! If you missed the twenty-first episode, you can check it out here. Otherwise, the twenty-second episode covered the following topics:



If you've missed any previous episodes, check the archive!