It's been a while since we've had a good old-fashioned fan art update here on DiabloFans. Today, we're going to take the time to highlight some exceptional pieces that have popped up on the board over the last few weeks. And there's a lot to see.

Fan Art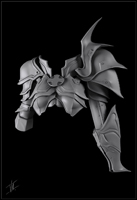 The

Demon Hunter seems to be a fan favorite. Long-time member Richwood666 shows us a faithful rendering (left) of her in detailed 3D. For now, the work focuses entirely on her armor, with new sections added regularly. The project started in mid April. You can track his progress on the piece in the thread here.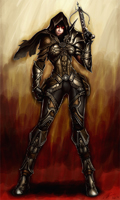 Richwood's no stranger to fan art. Back in 2008, he participated in the Blizzard Fanart Contest, petitioning his 3D rendering of a memorable section of Diablo II's

Rogue Encampment. Although he didn't quite make the cut then, his talents have come a long way. He now boasts an online portfolio of his work that can be found on his official website.

Enkeria posted another nice fan take on the Demon Hunter (right), found on Deviant Art by the user evilflesh (see the entire portfolio here.) The comments following the deviation discuss not only the better parts of the piece, but also some of the challenges the artist faced.

Hammerli is working on his own version of the Demon Hunter while he dabbles in digital painting. His work-in-progress can be seen in the board thread here.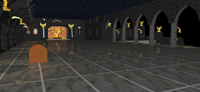 Going back to the nostalgic days of Diablo II, anubin posted a ton of comprehensive shots of his 3D rendering (left) of the

Pandemonium Fortress, a bastion of the High Heavens in the very heart of the Burning Hells. See his thread for sixteen more screenshots, including views of the entire fortress and other great angles.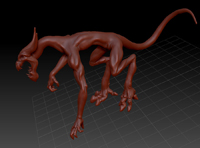 ydemonhunter posted the stages of developing his hellish imp in 3D, from conceptual sketch to full 3D rendering. See here for the full discussion thread.

Last on the fan art front, but certainly not least, TheElderMoon posted a link to a special treat straight from the MooMoo Farm. His design showing the three epic ingredients to open the way to the

Secret Cow Level can now be proudly worn on those awkward-but-necessary forays into the real world. For a nominal fee to support a fledgling artist, you, too, can boast membership in Diablo fandom to the world! See here for more.




Wallpapers
Buried deep in the Fan Art forum lies the ever-popular Wallpaper and OS Art forum. Shown below are some of the latest wallpapers available for your geeking pleasure.


Caniroth's official wallpaper thread contains many additional excellent pieces to baddass-up your desktop (there were far too many to put in one post!), and the rest of Holyknight3000's Fiery Rune series can be found in individual threads in this forum (just look for Fiery Runes in the title.)