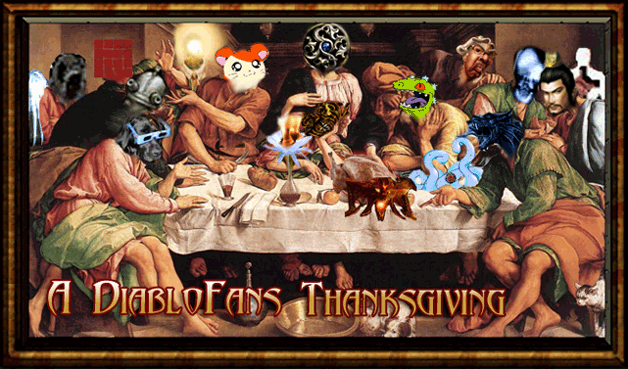 Another year, another Thanksgiving... Where has the time gone? Around this time last year, we were buzzing about our exclusive Jay Wilson interview and wondering what the future would have in store for us. To reflect on that, we are once again celebrating a DiabloFans Thanksgiving. In the sense of a tradition, i'd like to share with everyone what the DiabloFans Staff is thankful for in regards to Diablo III... Read on to see what you agree with, what you don't, and what you want to add!

Sixen: I'm thankful for PvP... I love me some PvP and love the fact that it's becoming built right into the game.

Daanland: I'm thankful that this Dev team under Jay Wilson has addressed many concerns with awesome radical changes, in fashion with D1>D2.

FingolfinGR: I'm thankful for the changes to the runes... will make the game experience so different for every character I roll!

Nektu: I'm thankful for the Arena PvP system as well as the BoE with certain items.

Stormcat: I'm thankful for all the character customizations we will be able to make.

Umpa65: I'm thankful for the ability to have hardcore PVP arena.

Magistrate: I'm thankful for the same stuff as last year and the amazingly simple PvP arena. Fun stuff.

Don_Guillotine: I'm thankful that Blizzard is keeping large chunks of the game a secret (not showing them), contrary to how they handled Diablo II back in the day.

ScyberDragon: I am thankful for unique stylized armor for each class.

liquorice: I'm thankful for getting to follow the game coming together and that "Soon™" is becoming sooner every day.

Zhar: I'm thankful that we're sure, without a shadow of a doubt, that PvE and PvP will be balanced separately.

PhrozenDragon: I'm thankful for the armor dyes. A small addition perhaps, but it's the small things that really makes something shine.

Apoc: I am thankful for a shared stash and no more Multishot Lightning Enchanted monsters!

Kickin_It: I'm thankful that we now know all 5 classes and the Witch Doctor is still the most badass.

zhuge: I'm thankful for the ability to report and wiki such great improvements to Diablo 3.

Even if you're out of the States, the DiabloFans team extends a warm and welcoming hand to join all of us in a day of thanksgiving, family, friends, and food. Have a great day, everyone, and here's to another year here at DiabloFans.com.