As we near Blizzcon 2010 this October, Blizzard is committed to upping the hype for Diablo's biggest Blizzcon yet! Twice a week, Tuesday and Thursday, to shed away those mid-week blues, Twitter and Facebook will be highlighting in-game gear:


Official Blizzard Quote:

Enjoy a behind the scenes look at a gear set from Diablo III every Tue/Thur leading up to #BlizzCon




The first being a quick look at a set of Witch Doctor equipment: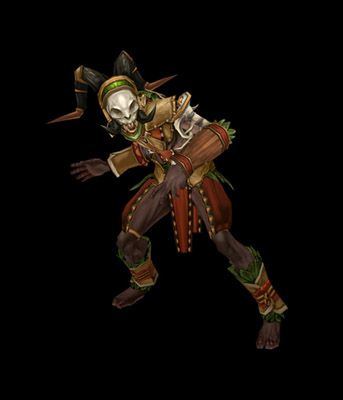 It's good to finally see content again, and this plethora of images is only the icing on the cake. Keep up-to-date on all of these developments as we reach Blizzcon here at DiabloFans, and get instant on-site updates off the official Diablo Twitter by checking out our Twitter feed here!

(Also, I think it's really amazing how tribal he actually looks. Nothing too outlandishly unrealistic ftw.)

UPDATE:

First off, we now know exactly what class and gender they will be revealing over the next few weeks.

Official Blizzard Quote:
Every Tuesday and Thursday leading up to BlizzCon on October 22 we'll be sharing a behing-the-scenes sneak peek at a gear set that will be featured in the playable demo at the event. Please enjoy!

9/30 Male witch doctor -

http://twitpic.com/2tdu5f

10/5 Female wizard -

10/7 Female barbarian -

10/12 Female witch doctor -

10/14 Male wizard -

10/19 Male barbarian -

Along with the schedule, Bashiok further commented on the actual gear presented. First, that this gear set is around mid-range. So for anyone worried about this being the Witch Doctor's top-end gear, worry not. However, for those hoping this was the first level, sorry. Another comment he made was how the dye system would effect this particular armor. As it has already been stated, only certain pieces of the armor can be dyed. Bashiok said that the redish-orange pieces of the armor would be the pieces effected by dyes. Non-armor related, he also revealed that the Witch Doctor is able to wield all two-handed weapons. Lastly, he also stated that this "set" of gear is not an actual set. Meaning that it is not a set with a particular name and stats attached to it. It it more like the leather, gothic, full plate, type of set. Which is also good news for those worrying about its style and epic-ness.