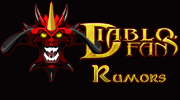 A recent update that we got from Diablo III's Twitter is very interesting. A picture was shown and it appears that it's called "monster wall" which seems to be a visual chart that tracks armor and monster development. But what they did not say was that, by the looks of things, they track the visual appearance of all the classes too. The picture was purposefully made blurry and taken at such angle that not much can be really seen. But let's see what do we have in sight. On first look there are green, blue, red and orange sheets. And the green sheet appears to read "Classic Class Armor". Unfortunately, the other sheets are too far away to make out any distinguishable words. What they say is anyone's guess.





Now there is something else that is very interesting that captures our sight (pictured left) and those are the first sheets that are closest to our view. They may possibly show one of the five classes, but which one? What characteristics do we have? We can see that this appears to be a woman, who looks very similar to the female version of the wizard. But this is actually the wizard? We can see on the middle and right sheets that she has some kind of a sword in her hand and on her back. Now, on the picture on the right we have the same female class but by the looks of things her armor is more warrior based, a little bit reminding us of gladiator armors of old times especially the helmet. At first sight it looks like she is holding a bow, but she actually isn't and she has what looks to be a sword in one of her arms.






Now on the other side (pictured right) we have ten sheets. On the first two pictures we can see a male and a female version of a character. However, this class doesn't seem to be familiar to us because if it was the witch doctor the visuals would have dark skin and by the looks of things their skin is white. Its neither the Wizard, Barbarian, nor the Monk because we already know how these look and these two here have absolutely nothing that resembles any of the aforementioned classes. On the next 6 pictures there is quite a bit of light which prevents us from seeing what actually is there. But there is one thing which is very similar in all of those pictures - the silhoutte is absolutely the same for the male and female pictures. Could this be the so longed for fifth class? And Blizzard is being more and more open on updates and teases as of late which can mean only one thing - they are very far ahead (even Bashiok confirmed this) that they are confident enough to give us bits and pieces of what's actually going on.





Bashiok added that these pictures are several months old and that a lot of change has occurred sine the time this picture was taken. There was also mention that the last class to be revealed was actually the first in concept but the character has gone through a major change. Could these pictures actually be pictures of the last class to be revealed, at least before they changed it? Probably not but what else could it be...?
You can also see more ideas about the wall in this post by Doomscream.

Once again, this article was written by Akuma_Gin. If you have any ideas that you would like to share with DiabloFans, please see this thread with details on just how to do that.