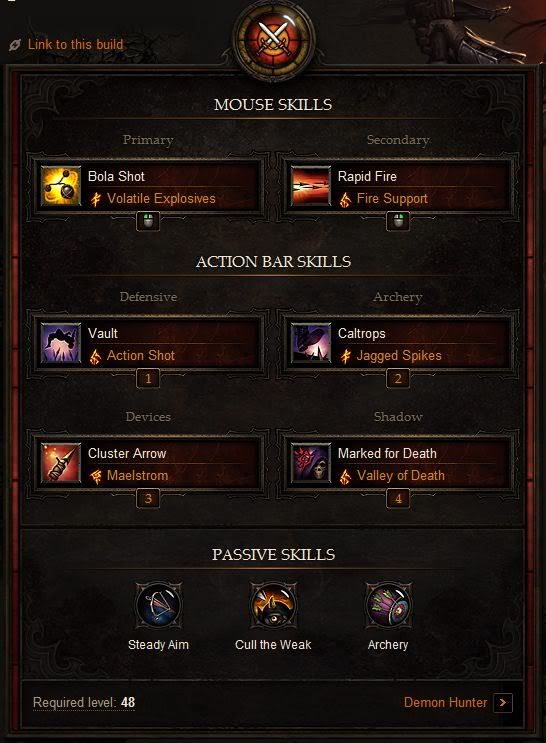 This is my build for a PvE Demon hunter with high survivability without sacrificing damage:
I chose Bola Shot for my Hatred generator due to its minor AoE, and went with Volatile Explosions for the rune to make the AoE more effective. Rapid Fire is my secondary attack because it has a high output for single targets such as bosses and champions and with the Fire Support rune it makes it a good skill for packs of mobs as well.
Vault and Caltrops are my first and second action bar skills because I plan on using them very often. My play style will be to run up to a group, lay the Caltrops, and vault away to start attacking. The Jagged spikes and Action Shot runes on these attacks add damage to both of the skills. These will make it so I will always be doing damage, even when I'm setting up for Bola Shot and Rapid Fire.
Finally I have chosen cluster arrow and Marked for Death. Cluster arrow will be my primary AoE when encountering small groups. I chose the Maelstrom rune because it increases the damage, but more importantly it will heal me, allowing me to avoid death with ease in a pack of small fast mobs. Marked for Death will be used on boss monsters as well as packs of unique monsters. I picked the Valley for Death rune to make the debuff an AoE in order to work better against multiple unique monsters.
For the passive skills I chose Steady Aim, Cull the Weak, and Archery. These skills work very well together to increase my ranged damage, rounding out my build. Using the Caltrops and Vault in unison, I will always be a good distance from slowed monsters, and will almost always be getting the benefits from these passive skills wile increasing my survivability.
Link to the build:
http://us.battle.net/d3/en/calculator/demon-hunter#bcVYPU!Yce!abbbbZ