just wanted to say what i thought about the art of D3. i liked the colors when i u get outside. it is very stylish and great.
+I'd like to see wind. outside, there's rain. hail. fog. but wind? Yeah it seems quite difficult to render such a thing, but if there was wind, the game will be AWESOME.
oh and i just wanted to say, the art in adventure games really is sometthing i think is very important. yeah there's mechanics, but what makes it a captivating adventure game would be the art... so all u lame-o's who think art is not as important. we have different opinions. o.o
+anywayz. i'd also like to see better lighting. a sense of whether the sky is sunny/cloudy/etc. the water reflecting the sky.
I really want to disagree with what the designers think about highlighting monsters so you can tell them apart. Yeah it's a strategic game, but its also an adventure game. Making the skeletons look more rusty or zombies more dead would seemingly make them blend into the backgrond right? So what. It would only add to the difficulty. It would only add to the suprise. Really now, in diablo II when u mouse over monsters, u can see them because they're highlighted. Yeahhh thats what that was for.
+so they should emphasize less on telling objects apart from other objects. They can use the surprise function by not making the monsters so obvious.
Okay. Lastly. I understand outside there's a lot of light. And Sunshine. but inside? Where are the lights coming from?
Under tristram's cathedral, there are invisible light sources. Again, they stress too much on strategy by making monsters visible 20 feet away! through unkown lights. in the gameplay, i dont think the path the player was taking was the upper level. it really looks like underground or such.
+ Either add in the light radius or create more candles because unkown lights lighting every corner of the room is not scary. people fear the unkown, and using color theory with the green and blue is obsolete without better lighting.
i like the colors yeah, but maybe in the dark places, too much can be ineffective in terms of fear.
i also played around the art thats in the cathedral.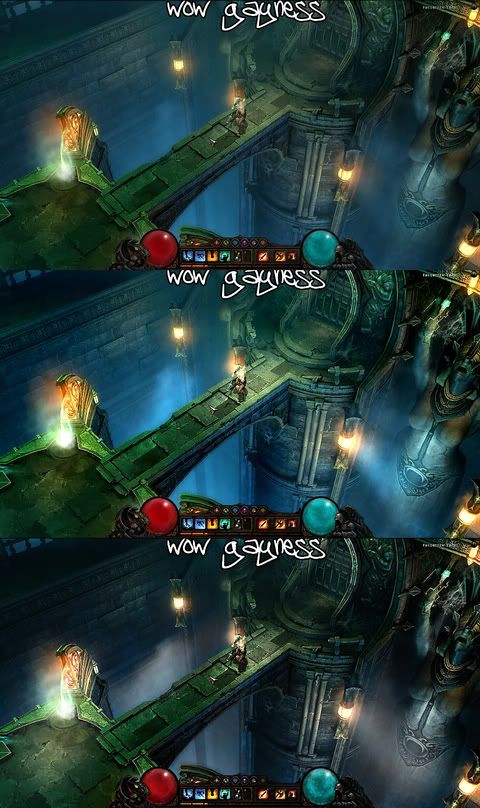 not proposing anything. just tinkering. what i did was created darker shadows and lighten the highlights for number 2. i thought D2 and D1 were really bold. so thats that. darkening the shadows makes thing more bold. number3 i loosen up the blue.. i prefer 3.
these are just subtle changes. its nothing to note on tho