Mephisto's Lament
Que-Hegan
Join Date:

6/28/2008

Posts:

3,247

Member Details
So I was reading about a planned trilogy, made by the guy who brought forth amazing and classical works such as The Village (suck on that, Villagers. Fooled you..bet you didn't see THAT plot twist coming, since you totally couldn't hear air planes flying over you, or anything!), Signs (Suck on that aliens! You should have thought twice before coming to a planet that's 70% water..NAKED! Man, bet you didn't see THAT plot twist coming, eh?!), The Happening (OH YEAH BABY..THE LEAVES ARE RUSTLING..AND THAT CAN ONLY MEAN THAT THE BADASS PLANTS ARE GONNA MAKE YOU KILL YOURSELF!...wait what? YEAH..BET YOU DIDN'T SEE THAT PLOT TWIST COMING!), and The Last Airbender (no comment).
So, what will the first movie be about? Let's take a look at its movie poster, first.
Mr. Shamamamamamamamalalamlamalman (you can fit in any number of syllables into his name. That's what so fun about making this topic!) is making a movie about a bunch of morons stuck in an elevator. One of them is the devil. I BET A WOMAN WILL HAVE HER BABY WITH HER..AND HE TURNS OUT TO BE THE DEVIL..PLOT TWIST!
I mean, really? Is he gonna fill the movie with flashbacks, with telling us the backstory of all the idiots on the elevator, or is he going to bore us by making us watch more than 90 minutes of people sitting in an elevator? I don't know about you, but unless there are 4 women stuck in a hot, chocolate syrup filled elevator..and they just happen to ALL be horny lesbians with raging libidos, I'm not fucking interested. Stick me in an elevator with Steve Buscemi and Tyrael and I'd get bored, and now you're telling me that if I watch this movie, I'll be suffering from watching an M. (more than likely standing for MCan't produce/direct/write for shit) Night (a middle name almost as cool as Lampshade) ShamamamaamamamamamaOHYOUGETTHEFUCKINGJOKE movie about morons in an elevator? Wait, one of them is the devil? Why the fuck would the devil be stuck in an elevator? Is he gonna dominate the world..one stuck elevator at a time? Man, he's such a badass, foseriousleh.
I'm not gonna link you guys to the trailer. Instead, I'm gonna tell you what to do, so that you can have an idea of how COOL this movie is gonna be.
Go get a fork. Alright, you got it? Good. Now stick it in your eye. Done? Alright, now twist it. Done? Go get a lemon and some salt. Got them? Now pour them into your eye socket. Done? Now watch 2girls1cup and force an orgasm.
All that would pretty much be more fun and amusing than watching an upcoming film by ... fuck it, I'm not gonna type in his name again.
I wonder what his other two are going to be about. Two people stuck on an escalator, where one of them is actually Jesus? Two brothers stuck in the closet, with one of them being gay, but doesn't want to get out of the closet just yet, and the other is just scared to come out of the closet so that people wouldn't wonder what the fuck he was doing with his brother in there? God help us all.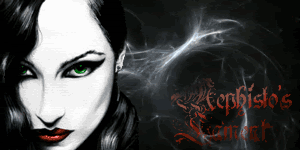 Rise and rise again, until lambs become lions