overneathe
Wise Elder
Que-Hegan
Join Date:

7/31/2011

Posts:

4,908

Member Details
The Future of MF & GF in Paragon 2.0
So far it looks like the precious Magic Find and Gold Find points we've been gathering with Paragon levels will become available for assigning to other stats when Paragon 2.0 arrives. A lot more info on the subject was shared by Lylirra on the Official forums.
So the whole statement about releasing the paragon 2.0 systems and Loot 2.0 systems BEFORE the expansion are null and void?
We're still looking to release Paragon 2.0 and Loot 2.0 in a pre-expansion patch. The information you quoted was simply providing examples in the context of two co-existing level caps (level 60 for players who don't purchase the expansion and level 70 for players who do purchase the expansion).
The basic gist is pretty straightforward, though. If your character is considered to be at max level cap, that character will earn Paragon experience. If your character isn't considered to be at max level cap, it won't earn Paragon experience.
since obviously Loot 2 will come before RoS, what will happen to the paragon points you have earned if you install RoS to raise your lvl cap to 70? will they vanish, because you no longer can paragon-level until you reach the NEW cap?
Nothing will happen to your existing Paragon levels or Points in that scenario. You'll just stop earning Paragon experience while you level up from 60 to 70, which means you won't be gaining any additional Paragon levels or Points during that time either (but you also won't be losing any). Once you reach level 70, you'll start earning Paragon experience again from where you left off. Easy-peasy.
Will dead HC characters with paragon levels count towards our total? I don't think this has been answered yet.
For clarity, this has not been decided yet.
Is blizzard removing the MF/GF bonus currently with the paragon levels, and are we going to have to assign points to MF/GF, if we choose, over other stats?
Yup. Under current design, that's how it'll work. (Everything still subject to change, of course.)
Bit more detail: When Paragon 2.0 goes live, the innate bonuses granted by the current system will be removed; all the Paragon experience across your characters will be added together to determine your new shared Paragon level; and then, based on that level, each of your characters will be granted a specific number of Paragon Points (your total # of shared Paragon levels = your total # of Paragon Points). From there, players will be able to allocate their Paragon Points into different stats across four different categories: Core Stats, Offensive, Defensive, and Adventure. Magic Find is available in the "Adventure" category. Gold Find isn't a Paragon 2.0 stat right now, but again...that may change.
(Note that what category a Paragon Point can be spent in will be determined by what Paragon level you earn. Paragon level 1 gives you a point to spend in "Core Stat," Paragon level 2 gives you a point to in "Offensive," Paragon level 3 gives you a point to spend in "Defensive," and Paragon level 4 gives you a point to spend in "Utility" (or "Adventure"). Each Paragon level past that follows the same pattern.)
Removing this bonus and making us spend points on MF/GF reverts back to the original problem that the paragon system originally solved: the gear swapping. How is this going to be handled?
Gear swapping is still a concern, and getting rid of the innate bonuses and having Magic Find as a Paragon 2.0 stat does reintroduce some issues. That's something we're still tinkering around with, but haven't settled on a design solution for just yet (a few other gameplay systems and changes need to be finalized first). I fully anticipate that will be something we communicate to players ahead of time, before it's implemented, or at least once we lock down exactly what we'd like to do.
---
Diablo 2 Battle Chest for $4.99
Reddit user
turner850
found out an intriguing offer at Best Buy - Diablo 2 Battle Chest for $4.99! Not to come as a surprise, but the battle chest is currently out of stock for online purchasing. It could still be available in stores, though.
While on the topic - let us know when you got your Diablo 2 copy and how much it cost then!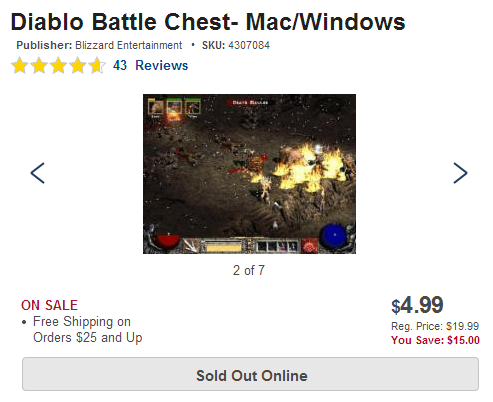 ---
Patch 1.0.2 is Now Live on Xbox 360 As Well
The console patch that landed on PS3 about 2 weeks ago is now live on XBox 360 as well. You can check out the changes below, some of them are known from before, there are just a few minor updates.
Diablo III Console Patch 1.0.2 is now live for PlayStation 3 and Xbox 360. Check out the full patch notes below to learn all about the latest bug fixes. For a list of known issues in 1.0.2, please visit our
Console Known Issues List
.
Diablo III Console Patch 1.0.2
Crash Fixes
Fixed a crash that could occur when quitting the game during a cutscene.
Fixed a crash that could occur when interacting with the stash while another player attempts to join your game.
Fixed a crash that could occur after connection failures caused by NAT/Firewall settings.
Fixed multiple crashes that could occur as a result of memory corruption.
Fixed crash when casting Hex with the Painful Transformation rune on a Fetish Shaman in Acts III and IV.
Removed unnecessary "Clear Skill" option that could appear on the Passive Skill screen and would crash the game when selected.
Gameplay Fixes
Enabling Elective Mode no longer causes "New Slot" notification stars to appear for the original slot as opposed to the slot the skill is assigned to.
Hardcore characters in the process of taking fatal damage while exiting the Scorched Chapel will no longer be permanently killed.
Followers can no longer permanently lose all items after migrating from one game host to another.
The following four item sets will no longer repeatedly and permanently add core stat bonuses each time the player logs out of the game: Blackthorne's Armor, Endless Path, Zunimassa's Whispers, and Guardian's Contingency. (This fix will also retroactively correct inflated core stat bonuses on heroes affected by this bug prior to our hotfix going live.)
Equipping a quiver with a two-handed bow will no longer cause Quick Compare to incorrectly reflect a loss in damage.
Square gems should now only drop in Hell difficulty, which is also where the required items to combine them drop.
The Paragon experience bar for Player 2 and Player 4 now displays correctly instead of being visually clipped at the ends.
Fixed a bug that caused a player's experience bar to not display in multiplayer games if a another character with a Paragon levels had entered the game first.
Fixed a bug that caused the inventory to not display unidentified Legendary items.
Fixed a bug that caused the inventory to display equipped items twice if you exited the gem socketing sub-screen with the Select/Back button.
Fixed a bug that caused the controller to become stuck vibrating indefinitely.
Made changes to address corruptions of saved game data.