overneathe
Wise Elder
Que-Hegan
Join Date:

7/31/2011

Posts:

4,908

Member Details
BlizzCon Merchandise Sale Coming on Friday
If you're attending BlizzCon or getting a Virtual Ticket, you'll be able to take advantage of the awesome merch sale Blizzard will be doing starting this Friday. Although Diablo isn't in the highlight of the sneak peek below, you can check
its section in the Online Store
and pick a few things that you'd definitely buy if they're on the sale list!
We know everyone's anxious to see what will be available to purchase for BlizzCon this year. While we can't show you everything just yet, we wanted to share a sneak peek at what's in store (pun intended).
This year's
BlizzCon online sale
will begin October 11 at 10 a.m. PT and will be exclusive to BlizzCon attendees* and Virtual Ticket buyers until the end of the show on November 9. Supplies will be limited, so if you're not going to the show in person or haven't yet purchased a
Virtual Ticket
, you might want to order now to get your chance at some cool BlizzCon merchandise.
To access the sale on these dates, log in to the
Blizzard Store
with the Battle.net® account associated with your BlizzCon ticket or Virtual Ticket (physical ticket buyers can view this info in their
Order History
).
In the meantime, check out just a few of this year's items below: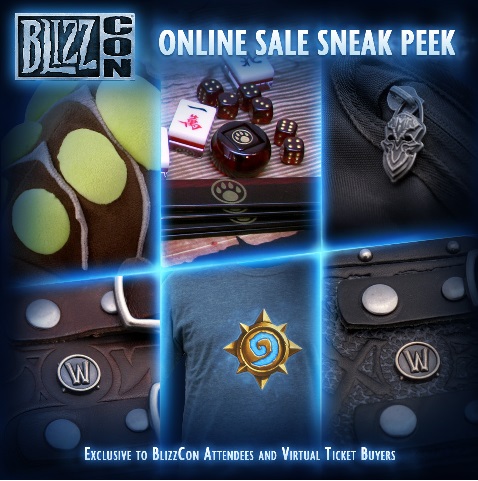 ---
Blue Posts
AH Feedback Still Being Gathered
Twitter is the worst possible platform for this kind of discussion.
It's a matter of how you frame the intent of a platform like Twitter. The restriction on characters encourages you to very carefully construct your thoughts, and that challenge can allow you to observe and analyze a situation in a different manner. Consider it an exercise in a different style of critical thinking.
In addition, I want to note that the use of Twitter isn't the sole way we're collecting feedback. My intent was to give folks a heads up on this particular outreach, in case it had been missed.
they should really keep the important discussions here.
Keeping a discussion in a single place is generally not productive. That's not exclusive to social media; whether it's forums or elsewhere, limiting discussion by venue does a disservice to a very wide and diverse community. We understand not all players use Twitter. That's true for the forums as well, and we want to make sure we gather as much feedback as possible. There's a ton of discussion happening here on the forums and it's not going unnoticed. =)
I wish we'd get a more comprehensive statement about why they are removing the Auction Houses. We got a sudden notice and some boilerplate about it "not fitting in with the plan."
We have covered some of the finer details in our
Auction House Update FAQ
. The short version is that we want to ensure a rewarding and exciting loot experience. The Auction House and the economy it creates forces different decisions in how we approach loot. It was not a light decision to make, but we believe it's in the best interests for Diablo III.
I do want to say that I see a lot of constructive feedback in this thread, and that's awesome! If you have feedback, you're welcome to continue using this thread to provide it (I'll keep an eye out and extend the cap if necessary). We want you guys to keep talking, batting around ideas, and letting us know your thoughts as we share new developments. (
Blue Tracker
/
Official Forums
)
Whose Fault is EU's Lag?
Well for one I don't think Blizzard wants to provide us with information unless it is 100 % confirmed. Can you imagine the outcry if Blizzard speculated on the cause and was wrong?
We generally do not like to post things unless we are 100% sure that they are correct, because the outcry is always bad if it turns out we are wrong... the outcry would be even worse if we started blaming third parties ;-)
I do agree they could be a bit more vocal and really assure everyone that they are doing everything in their power to handle this issue since I am sure we all agree these lags are a terrible detriment to our gameplay experience.
I can assure you that we are doing everything we can to resolve this issue, and we are not ignoring the latency reports you guys are submitting. (
Blue Tracker
/
Official Forums
)
---
What Side Quest or Event Do You Find the Most Interesting?
During your adventures through Sanctuary, you've traveled near and far—to Hell and back, in fact! You've encountered terrifying creatures, diverse cultures, and memorable personalities, and along the way, you've probably participated in dozens of side quests and events.
For our latest community question, we want to know: What side quest or event in Diablo III do you find the most interesting, and why?
Perhaps it was the waves of skeletons during Jar of Souls, the relentless meteors during the Scouring of Caldeum, or the challenge and danger nestled deep within the Crumbling Vault? What memorable side stories have stuck with you or made you raise an eyebrow?
Leave a comment below to let us know, or respond on
Facebook
or
Twitter
!