overneathe
Wise Elder
Que-Hegan
Join Date:

7/31/2011

Posts:

4,908

Member Details
Diablo III at Gamescom 2013
Yesterday Blizzard released their
schedule for gamescom 2013
and today we're getting the Diablo specific activities and events, planned for the European convention. Check out all the fun Blizzard is preparing for in the Blue post below.
Drop by the Blizzard booth at gamescom 2013 and you'll have the chance to prove your worth in the Burning Hells –
Diablo III
is not only
on PC
, but also
on PlayStation 3
for the first time in Europe ahead of its release on September 3!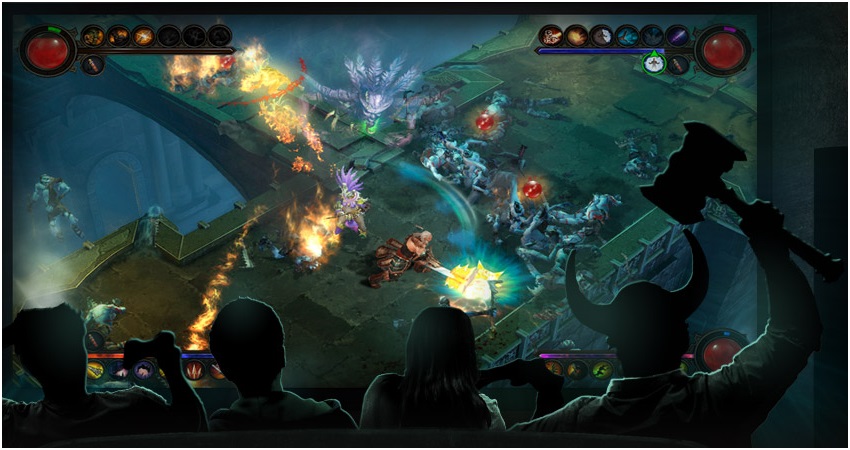 Reforged for the console experience, Diablo III on PlayStation 3 brings co-operative demon-slaying to a whole new level. Bring your friends and get settled on our comfy sofas – but don't relax too much, because humanity needs you to battle the legions of evil. Curious to find out how the famous, frantic mouse-clicking experience of Diablo on PC works on console? Now's your chance to find out!
That's not all the Diablo-related entertainment you can expect at gamescom. We've got
live music performances
featuring songs in the theme of – and directly taken from – our games. Check our
schedule
to make sure you catch the shows.
The world-renowned
Blizzard costume contest
takes place on our stage on Saturday August 24, and last year the winning costume was a terrific female barbarian outfit. Will we see another Diablo-themed winner this year? Only time will tell – be in the crowd to find out who's going to win a trip for two to this year's BlizzCon in reward for their mighty efforts.
And finally, if you'd like to meet some of the
Diablo development team
and grab their signatures for your collection, we've got several signing sessions scheduled throughout the event. Bring along a favorite memento to be signed, or pick up one of the free cards.
Check out the
full schedule
for all the timings – we hope to see you there!
---
Blue Posts
Specifications of the Mobile Authenticator
My understanding of the mobile authenticator is that it's just as secure as the physical one. The one downside to the mobile app is that there's a tendency to overwrite the serial number if the app gets updated, which is why we encourage saving the serial and restore code (that can be found through the setup screen). To counter that, the downside to the physical one is it's one more thing to keep on a keychain, which can get a bit unwieldy. Just comes down to personal preference, really.
Personally, I use the mobile one. I've locked myself out a couple of times when I did an update for my phone's OS, so am now sure to screenshot those codes as soon as the app goes back on after I remove it temporarily, before an update. (
Blue Tracker
/
Official Forums
)
Purchased Items Can be Delayed
Just purchased something for 2 billion gold no item? What gives is the server slow or something?
Depending on the traffic at any given time, there may be varying delays. As stated here in the thread, sometimes buying other items can help the AH along to process those sales that are taking awhile to finalize. Personally, I'd recommend just waiting it out a bit longer. If it doesn't show up, please post the details of the Auction (name of item, which game region this was for), and also include the transaction ID#. Thanks! (
Blue Tracker
/
Official Forums
)
Possible Issues with Stacks on the AH
Finn, thanks for sending that in. My understanding here is that this can happen when the system accepts the bid for a stack size, but at that very moment someone else has also bid, and the (Tome stack) at the price you accepted becomes unavailable. The system tries to provide you the items at the price you agreed to - but it has less than that which it can provide.
If you look on that screenshot in the purchased column, you will see the number displayed there for the amount of the items that were actually transacted - when there is no number, the transaction was for a singular item.
Here's an
example
of what it will look like when the transaction processes for the full stack size. You can see that unlike your transaction, there is a (50) also displayed in the completed column.
Hope that clears that up a bit! (
Blue Tracker
/
Official Forums
)
---
Fix for Keywardens Below Inferno on the Way
We all know Keywardens are not supposed to appear on difficulties below Inferno, but it's not the first time a player has encountered a Keywarden on Normal, Hell or Nightmare. In this particular case the 'victim' was playing on Normal and only their quick reaction aved their hero's life. However, Blizzard is working on a possible fix for such events and it looks like we'll get more information in the near future.
Hi Guys,
I just wanted to let you all know that we do have a potential fix for keywardens appearing in difficulties below inferno. However, I don't have any info as to when it may appear on live servers. Just know that it's in the pipeline.

Thanks for all the reports!