ScyberDragon
Nephalem
Location:

Superior

Join Date:

1/22/2009

Posts:

8,816

Member Details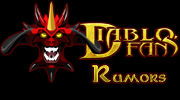 Perhaps the one piece of information that we all want to know is how soon is soon™. Blizzard is known for their secrecy in this area in their development. Always ready to release the game "when it's done".

Diablo III
has been in development for multiple years now and known to the public for over three years. Now, looking back at Blizzard's history, three years after initial announcement seems to be the magical number for the game's release. However, it has now been over three years and there is still no release date for the game.
Although there is no announced release date, there are some clues and information as to when we can expect the game. The first time we had all hoped to hear some information on its release, or more specifically the beginning of beta was back during ActivisionBlizzard's
May financial conference call
. At the previous conference call, it was stated that there would be specific talk about the beta. We all listened eagerly as some hoped for the best and others stayed cautious. By the end of the call we had learned three facts... First, internal beta had started the week prior at Blizzard. The second was that they are still planning for a 2011 release. Lastly, Blizzard was planning on starting the beta in the third quarter (July 1 - September 30). Nothing else was mentioned during the call, leaving many unsatisfied, in the hopes that the exact public beta date would have been announced.
The most important thing to take from this call was that internal testing had officially begun. This is important because of a quote by Jay Wilson that the development team was planning on a six month testing phase. There has been a lot of speculation and debate about this quote as it was typically vague in Blizzard fashion. Many have assumed that there would be a six month public beta while others disagreed by the need for this length of testing. While clarification was never given, we can add this quote with the facts given during the call to assume that the internal testing is included in this six month testing time.
Moving on from this call, we have had a pretty slow few months of Diablo news. There were a few big hits like the
Follower system
and some

Skillrune
previews
, but that remained it. Why does this effect Beta's release? It was stated by Bashiok that all systems would be revealed before Diablo's Beta would begin.
Official Blizzard Quote:

We will be announcing all of the game systems though before beta, so there are a few things left as far as reveals go.

While we do not know exactly how many and what systems remain to be revealed, it has been particularly slow on the news front and many have worried this is a sign that Beta and release are further off than some hope. Now, to counter this idea, we have recently got some news from Bashiok that plans are set to reveal some of this information. DiabloFans and other sites have been
invited
to go to Blizzard's headquarters for a first look at the beta. With this press event, DiabloFans will be able to release any information that we gain during this event to the public on August 1st. It turns out that Blizzard has planned on using DiabloFans and other sites as a way to help release information on the remaining systems.
Official Blizzard Quote:

Diablo: We've invited press to Blizzard HQ to help us make some important announcements on August 1st. What features do you hope/think we'll reveal?

So, we know that most if not all of the systems will be revealed on August 1. This information paired with the purposed beginning of beta would make it a safe guess that beta will be starting soon™ after the press event. Just how soon is up to speculation, but considering Sixen and Force will both have gotten to play the beta, it seems like it is ready to be launched.
With beta in full effect, where does Diablo's actual release stand? While it has been stated several times by different people since the conference call, it appears as though a 2011 release is still the goal for Blizzard. Of course, nothing is set in stone but the later the year gets and the continual use of this proposal only strengthens its validity. This means that there has not been any huge interferences or unseen problems that have delayed the game further since May.
Official Blizzard Quote:

Diablo: @zkep We're still shooting to have it out before the end of the year, but as always, we only want to release it when we think it's ready.


With all of this said and done, there is still no exact date on Diablo III's release. With a 2011 release date, that still leaves multiple months for its possible release. Moving on to more speculative thoughts, there is a clue as to a possibility on when we can expect to see the game. Perhaps the biggest mystery after Diablo III's release date is its story. Next to nothing has been mentioned about
Diablo III's story
except little clues and tidbits. However, on Amazon.com, a premature book made it on to the site sales listing. Titled
"The Book of Cain"
, its description included the fact that lore of the Diablo III game would be revealed through this chronicling of our beloved

Deckard Cain
. With Blizzard wanting to keep the game's story a secret until release, it would seem that this book would have to be released near, during, or soon after the game's release. While the book was soon pulled off of the site, the release date given to those who pre-order the book was November 18 - 22. However, with the removal of the items, many customers contacted Amazon's support and one reply was:
Unfortunately, the release date for the item(s) listed below was changed by the supplier, and we need to provide you with a new estimated delivery date based on the new release date:

Deckard Cain "Diablo: the Eternal Conflict: The Illustrated Guide"
Estimated arrival date: December 19 2011
Source
(Pityme2pac@Europe).
Could this book hold the clue to when we will all get our hands on this coveted game?