Verity
Retired News Reporter
Join Date:

9/25/2010

Posts:

1,839

Member Details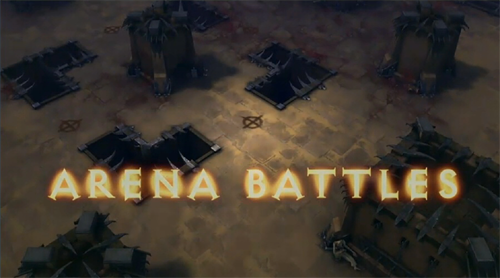 It is time to get in the pit! Blizzard has finally given us a glimpse of how PvP will work in Diablo III. With this PvP system the development team bring something new to the Diablo series - Battle Arenas.
Arenas are small areas separated from the rest of the world. There will be various arenas spread out in Sanctuary. Each of them will have a unique design with different scenery, features and terrain. You dive into the arena with your multiplayer character and battle out using all of the skills and gear you have accumulated.

Matchmaking and ranks

Ranked arena matches will feature team-based combat where several players in each team fight in 'best-of' matches. Jay Wilson said the development team is still looking for the "magic number" of matches. They know they want more than 1 match so players will be able to react to the other team after encountering it once, but they do not want to draw out the matches with too many games. It appears that teams will be limited to four players in each, making the biggest match-up 4v4, but no official word on that has yet been made.
To participate in a ranked arena match you will use the Battle.net matchmaking system so that you get faced against opponents with similar rank. When you complete a match in the arena you will be awarded points based on your performance in regards to kills, accomplished objectives, wins, and other factors yet to be revealed. Those points will be used to advance within the ranking system and also brings us to the next subject: rewards.
PvP rewards
The battle arena will not be a place to collect armor and weapons. The PvP reward system will be focused on achievements, ranks and titles for your character. Blizzard also hinted that ears will be returning in some sort as a proof of your victories. As of today those are the only rewards (along with the bragging rights of beating down other people online) we know of, but more are to be revealed.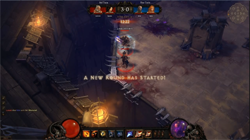 Balance in the arena
Balance in the arena will be focused around the 3v3 bracket, but ultimately the Battle Arenas are not made to fill a super competitive niche in Diablo, but rather a place where you have fun fighting other players. Blizzard has stated that the matches won't focus so much on individual builds, but your teams build as a whole. They have also stated that there are certain skills being added that will be much more useful in PvP than PvE. This will let more dedicated PvP players build their characters to focus solely on PvP.
Official Blizzard Quote:

With almost 97 billion potential skill and rune builds, and then factoring in items, the talisman system, and traits, character balance isn't likely to lend itself to an eSport, and in fact the PvP for Diablo III has always been designed a side game intended purely for fun. We know you like killing each other, so that's what it's there to provide.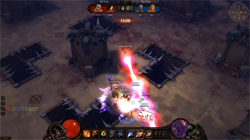 PvP in Diablo III is a lot about controlling your opponent. Stuns and slows are obviously very strong since they prevent or reduce the enemy's ability to do damage. In a quick-paced game like Diablo III this can become a problem. You don't want to sit around and wait for your character to be able to move while the enemy pounds on you, so to prevent PvP being all about crowd control Blizzard came up with the concept of 'counters'. Counters are abilities designed to break crowd control and they will play a big part in speeding up the PvP action.
In addition to the ranking system with team-based combat there will also be other type of PvP in the arena, such as 1-on-1 duels and unranked team battles where you can choose to fight your friends to determine who really is the best demon killing machine. More information on these game types will be available in the future.
With this system Diablo III PvP is taking a step in a new direction from the previous games. Jay Wilson also said that the battle arenas are just the first approach to PvP in Diablo III, and hopefully not their last, so we should be expecting more info on PvP in the future. Maybe they are thinking of some kind of world PvP, or maybe arenas similar to the WoW battlegrounds where killing the other player is not the only objective. Hopefully the Q&A panel will shed more light on it and answer all our questions regarding PvP.
Make sure to check out Blizzard's
official page for PvP
.
I myself can't wait to get my hands dirty in the arena!
Update:
In the open Q&A we got some answers and clarifications regarding PvP versus PvE balance. The final answer is that PvE balance is never and in no way going to be affected by the PvP. The main focus of Diablo III is PvE and they intend to keep it that way.
It was also said that if you enter the arena with your hardcore character: be prepared for permanent death.