ScyberDragon
Nephalem
Location:

Superior

Join Date:

1/22/2009

Posts:

8,816

Member Details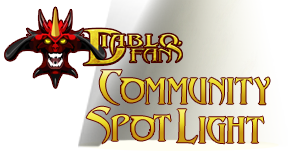 Here at DiabloFans, our community is what makes us such an amazing place. Taking the time to showcase, highlight, and share what the community has done is just one way of thanking everyone for their efforts. With the return of the community spotlight, I would like to take the chance to bring some attention to some of our community driven forums.
IRC -


DiabloFans has there very own
IRC
to be used for real-time chat. If you are looking to converse about some Diablo ideas or just anything in general, poke your head in. "Stay awhile and listen"
Guilds and Clubs -

This section of the forums is a way for our community to create sub-cultures of various aspects. Perhaps the biggest in this category is Nektu's
Brotherhood of Destruction
Diablo II guild. Staying fairly active, if you are looking for a place to find active players, search no further. However, this section is not just limited to Diablo-themed clans. My own
Minecraft sever
is setup for any DiabloFan to come and play the addictive game together.
While this section has not seen much attention in the past, anyone is free to setup a
guild or clan
of any type to help organize gaming or whatever else.
Fan Art -

Looking to showcase some of your work or eager to get some constructive criticism. Look no further than our fan art section. There is some impressive talent here at DiabloFans and we are all eager to see some art. Recently, Solux posted an impressive version of the

Barbarian
.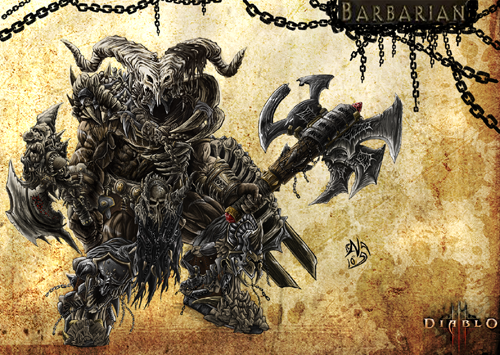 Click image for larger version


There was also the amusing and stylistic Chibi version of our Heroes from 2mindsstudio.

Click image for larger version
Umpa65 has also done a beautiful painting of
Marius and the Dark Wanderer
trekking through the desert.
There is a lot more impressive work over in the
Fan Art
section. Please take a look and post some of your own art.
On a side note to all of our artists, Blizzard is holding their annual contest to create their Holiday Card Contest. I know all of us would love to see a Diablo themed winner this year. If you are interested, check it out:
Official Blizzard Quote:
Diablo: Spread the holiday cheer this year by entering our second annual Holiday Card Contest or Holiday Dessert Contest.
http://bit.ly/d2fpgX
Fan Fiction -


While slow recently, the fan fiction is a place for all of our writers to post their own writings as well as read other member's stories. The most recent entry was deloctyte's
"A Feather Tilts the Scales"
.

The city was burning, the light coating the ruins in an unearthly glow. Archanis almost found it unsettling. The world of Sanctuary has always been something of an enigma to his kind. He knew not the name of the city or what drew him here. Not even Tyrael, the most rebellious and liberal of the High Council, knew of his descent from the High Heavens. A very light flicker of doubt resonated in Archanis about coming here. Never before did he or, to his knowledge, anyone else of his kind felt the... resonation that was like a siren's call to him.

He was no great Archangel, leader of masses. Even his name, Archanis, was nothing more but what a small, insignificant creature entitled him with as he battled alongside his brothers on one of the million worlds against the encroaching beasts of Hell. That world couldn't stand the strain. Archanis wondered if Sanctuary would be any different, or if it would break like so many others have beforehand.

There is also DesmondTiny's
"Chaos Begins Anew"
.

The Necromancer's dagger flared as it pointed in the direction of the wild demon. He quickly set off in that direction. Something was strange the Necromancer thought to himself. Although my companions and I banished the the Prime Evil's from this world and slaughtered many demons we did not get them all. There should still be many demons running rampart. Strange enough the demons seemed to have vanished overnight.
The demon attacked. The Necromancer quickly ducked and avoided his blow. Reacting the Necromancer quickly muttered his spell. Sharp Teeth like projectiles flew at the demon and impaled him.
The demon with a loud screech fell to the ground.

Both offer an interesting take on the Diablo lore we all love. Whether you like to read, write, or both check out the Fan Fiction category.Not limited to Diablo lore, there is also a
Non-Diablo Fan Fiction
subcategory.
Roleplaying -

Recently inactive, the
Roleplaying
section allows players to setup and run there own RP's. Whether Diablo-themed or based on any other universe, the Roleplaying section is in need of some creativity and breath of life. If you are interested in either running or participating in an RP, check out the forums.
Games, Contest, Polls, and more... -
Beyond these sections, our community is responsible for a lot more interesting threads and ideas. Recently some polls have gone up asking some important questions like whether or not you would
play the beta
of Diablo III or when the game will even be
released
. Check out others opinions and voice your own.
We would also like to take this opportunity to announce our new "Add a Caption" contest. This contest will be a chance for members to add their own dialogue/captions to make the screenshot more epic, hilarious, or whatever. To start this contest off, I present to you this screenshot. If you would like to offer your own caption, see the contest thread:
Here
. The winner will be announced in the next community spotlight with their caption front paged.
We encourage everyone to create their own forum game, poll, or contest. If you have an idea for something on a grander scale, you can always contact ScyberDragon with the idea.
To conclude this Community Spotlight, I would like to take the time to once again announce some of our members who recently became a part of the DiabloFans' staff, in case you missed it in the hype of
Blizzcon
.
Moderators
Nektu - Manager
Daanland
FingolfinGR
umpa65
News Reporters
Wiki Sysop
Thanks to all of our community and we all look forward to what else you guys will bring us.