Carloseus
Baron of SLAYERS
Join Date:

8/8/2006

Posts:

7,722

Member Details
well, here's somethings i saw and decided to make for everyone to see with me: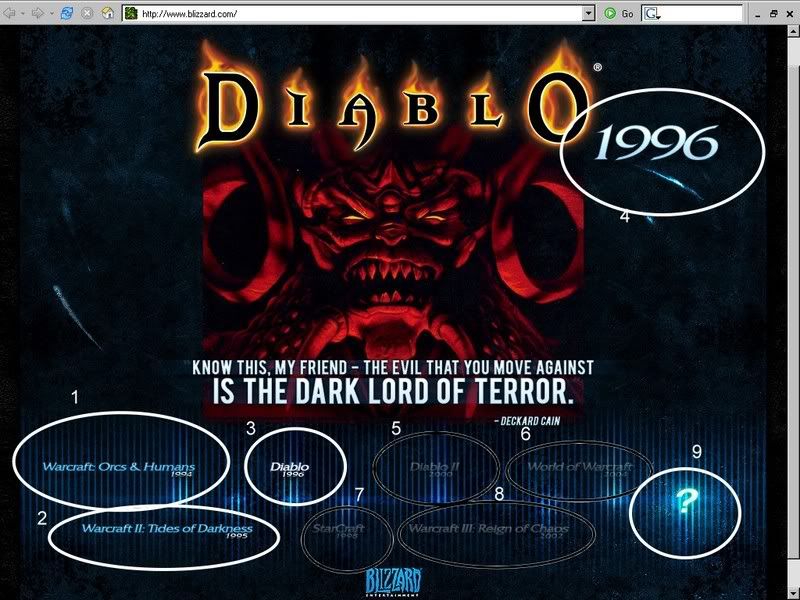 notice it goes WC, WC, D, SC, D, WC, WC, ??. we waiting for Diablo? after all, we did get diablo after two times of WC, unless they try to throw us off by switching D and SC.
1,2,3,4, and 9 are what we should be interested. notice these are in color, while 5-8 are transparent. what does this mean? maybe a patern of current and future consentration upon franchises that made them what they are?
i didnt circle it, but notice the diablo pic. why would they choose diablo 1? and then they went through the trouble of adding cain's words to it.
the background theme is the blizzard theme. go to battle.net and you'll see what i mean.
i think that this is mounting evidence towards a diablo 3. if you go to battle.net, you will see that SC has a new patch coming. why would blizzard want SC players to get comfortable with a new patch?
EDIT:
The first thing I did when I saw this splash-screen was to examine the html of the page. It contains a reference to the image

http://blizzard.com/images/splash/day2.jpg

. So, I figured, "why not try with another number after day?". Thus, I tried

http://blizzard.com/images/splash/day1.jpg

, and voila! A picture of the first two games in the timeline below.

Today, the name of "Diablo" is highlighted, while the first to games are in light blue, because they have already been displayed. The rest of the games are in dark blue, because the have yet to be displayed in the picture above. So, tomorrow the image

http://blizzard.com/images/splash/day3.jpg

will be active, and it will most likely display something from Starcraft (the next game in the timeline). Also, the name "Diablo" will be in light blue, and "Starcraft" will be highlighted.

And so on and so forth for the rest of the games, with the question-mark being revealed the 19th, if they continue to reveal one game a day...
after checking this out, ill have to agree with you on that. good pont.