Jamoose
High Council Member
Location:

Terra

Join Date:

2/23/2009

Posts:

4,318

Btag:

Jamoose#2376

Member Details
I know that many people already suggested and talked about the rogue / thief / whatever class but i think it has some great potential when looking at it from a point of you that compares it to the other 3 already announced classes. What i mean is, that it could have many skills that can kill massively, allowing you to solo / coop the whole game.
I have a few ideas that can actually (i think) make a thief class kickass:
-First, obviously he should not and will not be named Rouge or Thief, it should have a special name that no other game had it before... I will leave that for blizz
-The thief should be smaller than the other classes, his neck is leaning forward and his face is barely seen. With items and nice gear you can have him wearing a cloak covering his head, face and whole body...
-He will probably use small melee weapons like: small swords, scimitars, daggers, or weapons like the assassin had in d2, blades and stuff... Im still not sure about ranged though.
-The thief will have a main skill that will make him fade, with every higher skill lvl the thief will be harder to spot. He will have another skill that will make his movement blurred, something like wind walk, or walking and leaving smoke behind him.
-With higher skill lvl he will have a trail of his own images on his tail as he is moving fast between the masses of enemies, those images will attack as much as they can and disapear, then reapear closer to the theif again... while he runs...
-Did i mention that he has to be really fast.
Ok so you come to a group of monsters, you start running towards them. Tey only spot you from a short distance because you are almost invisble, leaving them no time to react but to turn facing your direction. On approach, the thief will ''wind walk'' through the middle of the monster group hacking and slashing with his dual wielded scimitars, leaving a trail of smoke and his images behind him that chokes, posions, and attacks the enemies. After that most of the monsters will be poisoned so you kill a few with normal attacks ( maybe with chargeable attack skills) or you could wind walk to another side of the monster group and keep repeating that...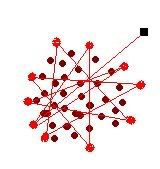 I know the image is crap but it can help me show you what i mean. The black sqaure is the thief, the dark red dots are the monsters, the red lines are the route of the wind walking skill, its the trail that he leaves behind him, and the bright red dots are points that he casted the wind walk at... So it looks like some kind of an appocalypse star which is pretty cool.... xD
-The thief should have a bonus when attacking from behind, that will encourage players to continiously wind walk behind targets, making the thief look like nothing but trails of smoke that can poison and kill anyone.
-Ofcourse we can add some sort of curses / diseases / poisons / bleeding wounds that monsters will get their hp drained over time.
-Maybe the ability to lay traps while wind walking, that if you can use the skill in the right time (leaving the traps in the middle of the mob clusters and stuff). the traps could be explosives, poison clouds, shocking, a ball full of 10 inch nails that explodes and blinds everyone, etc...
-Ranged weapons... Ok so, i saw some ideas about automatic crossbows which will be kinda realistic in d3 because its 20 years after d2 and there was something similar to gunpowder in d2 so... A thief could have a two handed or dual wielded crossbows, shooting fast, low range. The low range factor will enforce players to get close to their enemies, and to avoid getting hit when standing still and shooting (since you are not a tank, you are relativly small and can get f***** up pretty bad) you will have to use wind walk, which will again make it look cool... you will wind walk around your enemies and through them, leaving traps and spraying them with you automated crossbow from every direction.
----------------------------------------------------------------------------------------------------------------------
Well, its kinda long but it could have been longer... I know it can sound like its really shallow you know, you can wind walk and hit... put some traps, then what?..... I think that the whole blinking / wind walking / invisble thing, and the fact that you must keep moving around your enemies, and the fact that you are fast and have cool skills with cool effects, and you are small, wearing a hood and a cloak with 2 swords or a crazy looking crossbow... I think that is enough for it to be a good class. And if Blizzard will actually make a class like this im sure it will have some elemnets that my suggestion contains, and im sure they will make him playble and enjoyable
thanks for reading, if you did that is.
Peace
EDITS:
-Well, balanced in terms of pvp could mean also that other classes have escape classes taht can help you avoid the thief hits and shoot him if you are a caster. Other skills for every class can be made which will kinda counter some of the stuff the thief can do, and also will have great use in pvm... You see, IF this class is created, it will be balanced into the game and not just thrown in it and creating unbalance.... Which is what probably happened on knight online, never plaid but they shurely aint blizzard.
@italfoca: You are right, and the idea of the 3 trees is good also but it should not allow players to focus on only one tree, so we wont have a new version of an assassin, and a lame JUST traps build etc...
I think that you will have to use wind walk (or other moving skills like blink or whatever you can think of) even if you wanna focus mostly on traps, maybe they can make it that you can lay traps only while wind walking? or on blink's impact point...
@Reform: Well, yes its going to be a super hero, like the wizard and the barb are on what we have seen so far. I think that the abilities i mentioned can be compared in their power to the wizard and the barb, and even the wd. I didnt really say it should be invisble, it will be hard to be seen... for monsters it will affect the distance that it takes them to be from you so they can see you, and for other people it will look as a faded character you know... Its NOT invisble, because i know invisble in pvp is kinda fucked up.
.