Ardikus
Cantor
Join Date:

8/2/2011

Posts:

636

Member Details
With the recent change that gives Barbarians and Monks an additional 30% damage reduction, it seems they have become more of a viable choice for Hardcore mode. Especially the Barbarian, who gains further damage reduction through his main stat Strength and passives such as tough as nails. The Barb also has more than a handful of lifetap runes that will be vital to staying topped off while fighting. I plan to start up my hardcore Barb as soon as I hit level 10 in softcore on release night. I am still toying with the idea of going through all of the difficulties on softcore to gauge where the most difficult areas in the game are and how difficult they will be, but that depends on my initial success or failure with my first HC Barb.
Here's a build I'm look at
http://us.battle.net...ihUY!bVU!ZbZcab
There's so much damage reduction in this build, I have a hard time imagining myself ever dying. I might consider changing one of the passives to Ruthless to gain more effect out of Whirlwind and Overpower.
MONK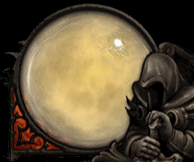 SPUNK