Elfen_Lied
Der Engel Des Todes
Location:

Hamilton

Join Date:

2/22/2006

Posts:

11,458

Member Details
Hurrying back down the stair the the ground floor, they began to search for a hidden forge.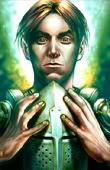 "Vell he certainly did a good job of hiding it." said Heinrich.
"Foolish boy." If it was easily found it wouldn't be hidden now would it." said Baeithra mockingly.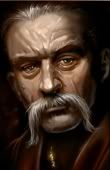 "Lay off ze boy, either you can look or you can go fight ze monsters, your call lady Drow." said Sir Karl.
As the group frantically searched the rooms and corridors, Heinrich found himself staring at a large portrait of Lord Hyrule, it was old and the name at the bottom was barely legible, but he was able to make out the words Daphnes Nohansen Hyrule. It wasn't so much the barely readble caption or the fadedness of the portrait that intrigued the young squire, it was the fact that it was the only portrait hanging anywhere on the entire level that wasn't damaged in any way aside from hanging a little lop-sided that it. Straightening it, the panel it hung on moved back then slide to the left.
"Sir Karl, come quick I found something!!" he yelled.
As they other rushed to his location, he told them of his discovering of the secret passage.
'Good vork Heinrich, let us see if ve can find ze forge in here." said Sir Karl.
"Oh yes let's all go in the secret passage." groaning the drow.
"You more zan velcome to stay out here if you vould prefer" said Sir Karl.
"I am coming, but only because this flail sounds powerful." replied Baeithra.
As they entered the passage it narrowed to the bredth of no more than a few feet, after a short while it widened to what appeared to be a forge, complete with smelter, fire pit, cooling vat and a vast assortment of utensils, hammers, clasps and on the stone table occupying the centre was the last flail head. Baeithra, who had some experience in forging simple weapons, or rather repairing them, was able to attach the heads to a shaft with little trouble.
"A fine weapon" she said.
"You surprise me Lady Drow, I did not know you vere such a good veaponsmiz" said Sir Karl.
"Ha, we Drow are experts in making weapons, though mostly we make intruments of torture and discipline." Baeithra replied.
"Hmm" Sir Karl mused. "Now to find ze one in charge of zese attacks. Glacius said he vas most likely in ze lower recesses. I zink i saw a staircase in ze main hall."