Elfen_Lied
Der Engel Des Todes
Location:

Hamilton

Join Date:

2/22/2006

Posts:

11,458

Member Details
Sir Karl began surveying his surroundings, he spied a skeleton in the corner.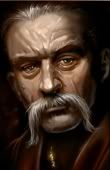 "Prehaps I am doomed to shall share your fate" He said to himself. "Zis body is old, I doubt I vill be able to break ze bars."
He looked back at the skeleton.
"Hmm prehaps I can use one of ze ribs und try to pick ze lock" He thought to himself.
"Sorry my friend, but I cannot stay here." He said as he broke of a rib and then proceeded to open the lock with it.