Elfen_Lied
Der Engel Des Todes
Location:

Hamilton

Join Date:

2/22/2006

Posts:

11,458

Member Details
"Damn fool needs to learn when to stay in bed." said Maes. "Though I have no idea how he managed to haul himself out in the first place. With injuries like that he should have been bedridden for 3 days."
"A fire burns deep in this one." Helfdain said. "It is fueled by combat. It will rage until the body is no more."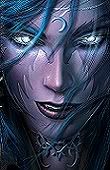 "He is certainly proving to be quite the handful, these herbs should sooth his wounds, but he will need much rest." Kathris said.
"Well ge' on wit it witch!" yelled Thoradin. "Gae on, heal 'em oop, If ye think he is goona stay here why'al we gae oop tae th' temple, ye had best think again. He drag himself oop there if he has tae."
"Prehaps you are right dwarf." said Maes. "Should he regain consciousness, I don't think I could restrain him. I doubt even three of us could. He would fight us all the way there. And even in the state he is in, he would probably win."
"Bah! ye humans are nothin' but wimps." scoffed the dwarf. "Quit ye snivelin'. Ah nay stand aroond here waitin' fer him tae wake up. Me axe be..."
"Itching for a skull" Kathris said. "Yeah Yeah we heard you the first time, now why do you go and get drunk like a good dwarf."
"Ah'll hold ye tae tha' elf." Thoradin said with a large maniacal smile. "Noo whear's me drink!! Ye bar maid!! Fetch me me drink."
"You think that's such a good idea getting him drunk?" Maes questioned. "With Wulfgar out, that dwarf is the best fighter we got here."