Elfen_Lied
Der Engel Des Todes
Location:

Hamilton

Join Date:

2/22/2006

Posts:

11,458

Member Details
Day 5 Kythorn 1500
"Dusk"
Yes, a fire, but first we will need wood. I shall go look for some" Wuflgar said as he headed into the forest.
Within a short while he came to an old and dying tree.
"Ha, this old wood should burn nicely, and it shouldn't take too much effort to chop down either" Wulfagar said as he rubs his hands together.
Not mere minutes into felling the tree did an arrow land at his feet.
"You there! Do not take another swing against that tree" A voice called out.
Wulfgar turned around, but he couldn't see anyone. "Who fires arrows at Wufgar?!" he yelled. "Show yourself!"
A lone Night Elf, emerged from the upper canopy of a tree in front of the barbarian, who was ready for confrontation.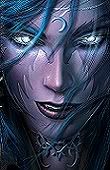 "Why are you befouling the forest of Ashenvale" said the Night Elf as she rose to her feet, and readied another arrow. "Why are you hacking down that tree?"
"It is but one old and dying tree, it will not be missed" Said Wulfgar. "I need it's wood for a fire, bah, I do not have time to argue, I must get to Azshara"
"So now you will go, after you have damaged the tree" Said the Night Elf "Typical, you humans are all alike, you cut down our trees, and dam our rivers, why can you not live in harmony with your surroundings"
"If your looking for a fight, Then you shall have it!! I will not back down" Wulfgar said swinging his axe around.
"RRRAAAAGGGHHHH!!!" Wulfgar cried as he charged at the Night Elf.
"hmph, foolish human' The Night Elf said as she fired several arrows at the barbarian in rapid succession.
"Muwhahaha, stupid twigs" Wulfgar said as he defected 2 of the arrows with his axe, while another pierced his right upper arm, though he was in such a frenzied state the pain barely registered.
"TSSKK" The Night Elf hissed angrily as she slung her bow over her shoulder and drew he sword. "Elune grant me strength!" The Night Elf prayed, then stood ready for the barbarians attacks.
"Grr agile little witch" Wulfgar cried, as his foe dodged his attacks. "stay still, and taste my fury!"
Wulfgar brought is axe down directly in front of him with such force it shattered the Night Elf's blade and sent her crashing to the ground.
"Get up" Wulfgar demanded "I may be a pit fighting barbarian, but I still have my dignity"
"As to do I, I yield" The Night Elf said. "I have been bested, this contest is over"
"Bah" Wulfgar moaned "it had only just begun, I did not even break a sweat"
Wulfgar stretched out his hand to help the Night Elf up.
"What is your name, Elf?" Wulfgar asked.
"Kathris, Kathris Moonsinger" The Night Elf answered.
"I am Wulfgar! of the Shadow Wolf Tribe of Barbarians, and Hero of Dun Craig" Wulfgar said with much pride "
"So you are a hero then" Kathris commented, I did not know heroes attacked trees"
"Bah again with that nonsense" Wulfgar grunted "I told you I needed Fire wood, if you will not let me have wood from your tree I shall go find another"
"oh very well" Kathris said "but you may take only the wood from that tree, AND NO OTHER!"
"Fine, Fine whatever" Wulfgar muttered "Say, My group and I travel to Azshara, but we know not the way, we are in need of a guide, how say you? without a guide we might have to just hack and slash our way there"
"If it means you spend the least amount of time in the forest, then I shall accept your offer, lead on"