Elfen_Lied
Der Engel Des Todes
Location:

Hamilton

Join Date:

2/22/2006

Posts:

11,458

Member Details
You can have only one character. And you cannot use someone else's character without their permission.
If you want to just use your SICK novel character you can, save you some generation time, but feel free to mod them a bit with some of the above information.
If you want to give your character a name other than your forum username you may do that too.
If you are unsure of a class, race, location, just go for what you know most about. But there are a few here who should be able to guide you through, just don't go asking questions in the wrong threads.
Bio's can be as big or as small as you want, the more detailed it is, the better it will help to describe your character, and you wont have to try do it later, but do leave some room for development.
Figured I'd just add in game world, as classes from the various worlds do differ in some aspects, DnD barbarians cannot wear heavy armor, while Diablo ones can.
Name:
Race:
Class:
Age:
Affiliations:
Deity:
Game world:
Bio:
Anything else is up to you, Height, weight, etc, but don't feel obligated to do so.
Here are a few NPCs that your character may interact with during the course of this thread.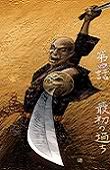 Name: Shikyomaru
Race: Human
Class: Fighter (Kensai)
Age: 25
Affiliations: None
Deity: None
Game world: Fae'run
Bio: A lone warrior, a vagabond. A tall man, dressed in a simple robe wielding two Katanas, with deadly accuracy, though one is usually kept in its scabbard, attached to his belt. Not overly known for his presence on the battlefield, but his skill with his swords have garnered him the name circle of death, possibly due to some of his more visually impressive sword moves. He also has a small set of throwing knives, which seem to fly through the air. He speaks with a Kara Toran accent (Japanese).
Name: Sir Elric Sigmundson
Race: Human
Class: Paladin (Cavalier)
Age: 48
Affiliations: The Order of the Radiant Heart
Deity: Torm
Game world: Fae'run
Bio: A steadfast warrior of Torm, a loyal and most trustworthy friend to those who know him. He has served in the Order of the Radiant Heart for many years. He strives to be a role model for younger Order members, in the hopes of one day becoming a Prelate of the Order, and thus able to make decisions about how the Order should be run. His primary concern is of course the smiting evil and defending of the weak.
Name: Baeithra Baenurden
Race: Drow
Class: Cleric
Age: 175
Affiliations: None
Deity: Lloth
Game world: Fae'run
Bio: Hailing from the underground city of Ust Natha, Barithra is a beautiful yet deadly Drow. Much like any of her race she dislikes those from the surface, and especially males. Drows are a matriarchal race, Females are the dominant ones, and males are viewed much like slaves. Baeithra is fiercely devoted to Lloth, the demon Queen of Spiders. She hopes to join the ranks of the Hand Maiden's of Lloth, the premier devotees of Lloth, but for now is content with her religious standing.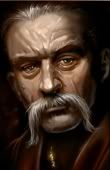 Name: Sir Karl Sturmgard
Race: Human
Class: Paladin
Age: 55
Affiliations: Order of the Hammer
Deity: Sigmar Heldenhammer
Game world: Old World
Bio: An aging but still effective warrior, he is a strong force of righteousness. When he isn't out righting wrongs and slaying evil he is at home in the war torn province of Mordheim (bordered by Reikland and Sylvania). He has been assigned the young squire Heinrich Hohenhiem, whom Karl serves as a father figure and mentor for the young boy, so that he might learn what it takes to be a Knight. An old comrade in arms of Elfen Lied, he has been on several of Elfen Lied's various campaigns over the years. He speaks with a Mordheimian accent (German).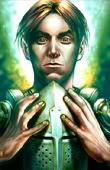 Name: Heinrich Hohenheim
Race: Human
Class: Fighter
Age: 20
Affiliations: Order of the Hammer
Deity: Sigmar Heldenhammer
Game world: Old World
Bio: Heinrich is an eager, young knight in training, he is rarely found far from his mentor Karl Sturmgard, and hopes that under his tutelage, he will pass his test of Knighthood and become a full fledged Knight of the Realm. He is a quick study, and very knowledgeable, he only lacks experience, but he is fairly competent with a sword, though he has yet to truly master a Greatsword and instead uses a longsword.
Name: Wulfgar
Race: Human
Class: Barbarian
Age: 35
Affiliations: Shadow Wolf Tribe
Deity: Talic
Game world: Sanctuary
Bio: A naturally skilled warrior on the battlefield, sometimes overconfident and often underestimates his opponents. One such encounter led to his capture by slayers looking for fresh meat for pit fights and various other, often illegal, activities. Wulfgar quickly established himself as a champion of the pit fighting circuits, and somewhat earned his freedom, though his notoriety will often force him to prove just how good a fighter he really is, there seems to be no shortage of fools who wish to challenge the former champion. He has moved between several mercenary troupes, but never really found one that suits him. He seems to prefer to be by himself, but will join groups of fellow warriors when it suits him. He hopes to one day return to his homelands in the north.
Name: Belgarath
Race: Human
Class: Necromancer
Age: 55
Affiliations: Cult of Rathma
Deity: Trang-Oul
Game world: Sanctuary
Bio: Balgarath, like all those in the Cult of Rathma, seeks a natural balance within the world, and will act if he feels the equilibrium shift to one side or the other. A skilled fighter in his own right, though he prefers to hang back and unleash his potent array of necromantic spells upon his foes. He is often accompanied by an Iron Golem, he refers to as Vasallus, that he transmuted out of a suit of armor.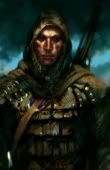 Name: Eldroth
Race: Hylian
Class: Ranger
Age: 21
Affiliations: Hylian Royal Guard
Deity: Din Goddess of Power
Game world: Hyrule
Bio: Eldroth is an expert marksman, capable even of using his bow whilst on horseback. He grew up hunting wild animals in the fields of Hyrule, but was quickly recruited by the Royal Guard for his skill with a bow, during one of the many wars with the neighbouring hostile territories. Eldroth knows that war and battles are often unavoidable, but he views them as rather pointless wastes of lives. But if his King or superiors command him to fight he will.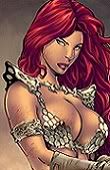 Name: Oboro
Race: Gerudo
Class: Fighter
Age: 25
Affiliations: Gerudo Thieves
Deity: The Goddess of Sand
Game world: Hyrule
Bio: Oboro grew up in the harsh deserts of Hyrule, she quickly developed a natural talent for swordplay, able to wield two scimitars at the same time, and display some pretty impressive acrobatics. Her devotion to the Goddess of Sand is only met by her tenacity in battle. She despises those who dismiss her simply as a woman, and will not think twice before teaching them a lesson or two. She is also known for her powers of seduction and charm, and is not afraid to use them.
Name: Thoradin Bronzebeard
Race: Dwarf
Class: Warrior
Age: 135
Affiliations: Bronzebeard Clan
Deity: None
Game world: Azeroth
Bio: If he isn't burying an axe into someone's skull, or filling his gullet with ale, chances are he's probably not conscience. Thoradin is an exceptionally skilled warrior, despite his small stature. He is not one to shy away from a good fight or make one, as the case often is. Always eager to sink his axe into the flesh of some demon or beast, partially due to his dream of having an epic death that will write him into the history books, like other members of his clan. He speaks with a Khaz Modanian (Scottish) accent.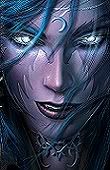 Name: Kathris Moonsinger
Race: Night Elf
Class: Priest
Age: 15000
Affiliations: None
Deity: Elune
Game world: Azeroth
Bio: Knowing very little of the world beyond the borders of here homeland, but is eager to explore them. Kathris is a highly skilled priest, but is capable of handling herself in battle if things get hairy. Not one to force her religious point of view on to others, but she is deeply devoted to Elune, believing, as all Priestesses of Elune do, that Elune will guide her through any and all obstacles she may face, including battle. Kathris is a capable warrior, but prefers to help others that are in need of her talents.
World Info Thread
http://www.diablo3.com/forums/showthread.php?t=5459
Out of Character Thread
http://www.diablo3.com/forums/showthread.php?p=122900
Role Playing Thread
http://www.diablo3.com/forums/showthread.php?p=124176
If your stuck for character names go here (though I'm sure you are all capable of coming up with cool names, but these sites are here if you need them.
http://www.diablo3.com/forums/showthread.php?t=1219
(Naming conventions)
http://www.diablo3.com/forums/showthread.php?t=1553
(Greek/Roman names)
http://www.diablo3.com/forums/showthread.php?t=1554
(Norse Names (good for dwarves)
http://www.diablo3.com/forums/showthread.php?t=1724
(Celtic Names)
http://www.diablo3.com/forums/showthread.php?t=1715
(Warcraft Characters)
http://www.diablo3.com/forums/showthread.php?t=1714
(Baldur's Gate Characters)
http://www.chriswetherell.com/elf/
(Elf names)
http://www.seventhsanctum.com/generate.php?Genname=darkelfnamer
(Dark Elf names)
http://www.seventhsanctum.com/generate.php?Genname=adname
(Demon/Angel names)
http://www.dmbh.org/portal/namegen.php
(Dragon names)
http://www.chriswetherell.com/hobbit/
(Hobbit (Halfling) names)
http://www.thequarter.org/Media/VikingName.php
(Viking names (Also good for Dwarves)
If you would like to use a portrait for you character you can go here
http://cassinus.free.fr/Hommes/page_01.htm
(Males)
http://pagesperso-orange.fr/cassinus/Femmes/page_01.htm
(Females)
http://www.kirith.com/portrait/
(Various)
http://www.bioware.com/games/shadows_amn/game_info/characters/
(Various)
http://www.bioware.com/games/throne_bhaal/game_info/characters/
(Various (actually pretty much the same as above, just one different portrait))