Atrumentis

Que-Hegan
Join Date:

10/4/2006

Posts:

4,957

Member Details
I don't claim to be as good as Lord Jetrall, no way, but I can make sigs or avatars for you in this particular style: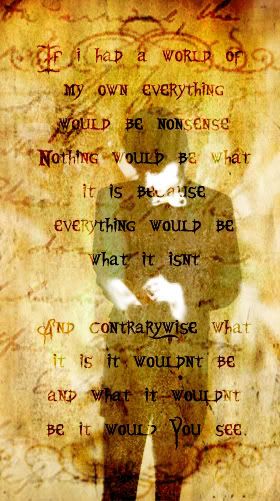 Yes, that is a photo of me. The writing is a quote from Alice in Wonderland. These are the backgrounds I used to start off with so you can see the difference:
http://upload.wikimedia.org/wikipedia/commons/thumb/a/af/Old_Letter.jpg/393px-Old_Letter.jpg
http://www.cafe-spain.com/sitebuilder/images/old_paper_800x600-760x1170.jpg
If you like old english/victorian kind of things, I can make one up for you. I absolutely love old english/victorian things, but I won't be using it for my sig. I dunno, I don't really like sigs personally.
wweeeeeeeee
EDIT: I made this for LinkX (from pg 3 in thread)

EDIT 2: I made one for me too, evident in my sig.
(Memento Mori is a latin phrase meaning 'Remember you are mortal' aka you will die eventually.

Quote from

WoW fans are nerds. Diablo fans are freaks.