Lenekk

Zealot
Join Date:

5/22/2013

Posts:

98

Member Details
Good evening good people of Diablo Fans. I have been perfecting a build on my DH recently and felt it was finally ready to share: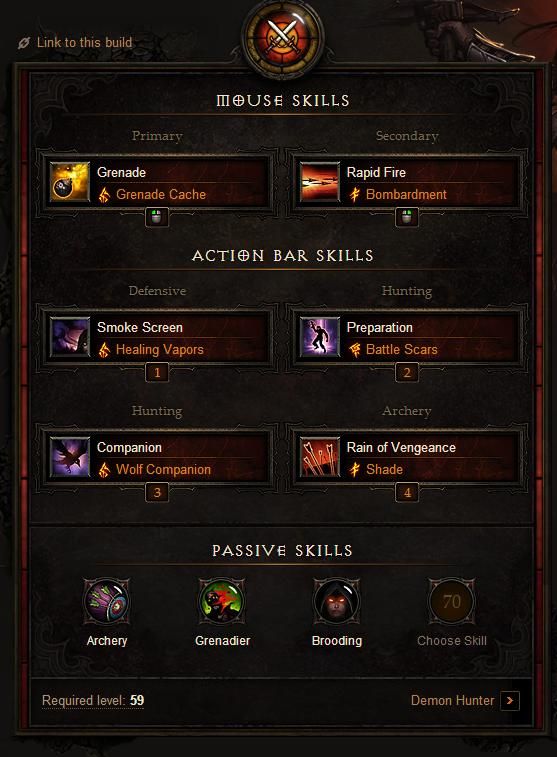 Overall this build does great damage, single target and AOE. It also makes you nearly impossible to kill which was a goal of mine... I just hate losing those pools of reflection :'(
Passives:
Archery:
Passive Damage boost, pretty much mandatory
Grenadier:
The backbone of the build. This passive increases the explosion radius of your grenades by 20% (very helpful), increases the damage of your grenades by 10% (pretty helpful) and grants you a 100% chance to drop a grenade upon death for 1000% damage (not very helpful but kind of neat I guess).
Brooding:
This passive has been significantly buffed with 2.0 and provides a substantial, scaling HP Buff. (1.5% of your hp stacking 3 times when you stand still) Since you will be standing still to channel Rapid Fire: Bombardment, this buff will almost always be active.
Active Skills:
Grenade:
The targeting issues that were present around launch seem to be corrected and the increased damage and explosion radius from Grenadier make this skill formidable. There is more than one viable rune choice for this skill.I typically use either Gas Grenade (Single Target DPS) or Grenade Cache (AOE). Stun Grenades and Tinkerer are also viable if you want to stun or need additional hatred generation. I do not like Cluster grenades because the damage output is so much lower (in my experience). The 200% damage from Cluster Grenades is spread out over an 8 yard radius, resulting in some very low damage numbers.
Rapid Fire (Bombardment):
This skill, A.K.A "The Grenade Hose of Doom" does amazing damage in general and provides the highest AOE damage of any Rapid Fire rune. The Grenadier passive increases the radius of the explosion and the damage even further, making this a very powerful skill (
535

%
weapon damage).
Smoke Screen (Healing Vapors):
This is an amazing skill / rune combo that was added recently. It breaks CC, heals you and makes you untarget-able for a short duration. This can be used while channeling Rapid Fire and along with Life on Hit and the Brooding stacks, you can survive almost anything.
Preparation (Battle Scars):
This has been a favorite of mine since launch. It's a great emergency heal and refills your Discipline so that you can continue using Smoke Screen. You will be very hard to kill.
Companion:
There are many viable choices here. Pick the one that compliments your gear. (Bat for Hatred, Boar for Defense, Wolf for Damage, Spider for CC). I almost always run with the Wolf for the amazing damage buff it provides (30% damage for everyone within 60 yards for 10 seconds). You can pop this right before Rain of Vengeance for Massive Damage.
Rain of Vengeance (Shade):
I was skeptical about this rune before I tried it, but I am a believer now. This rune has a HUGE radius and does amazing damage. You can aim it where ever you want (it is deployed at your cursor position) and you can use it while channeling rapid fire.
How to Play:
Use Rapid Fire until you run out of hatred and then spam your grenades to regain it (Pretty Self Explanatory).
If you become overwhelmed or see an elite pack, you can pop the Wolf Active Skill (30% Damage) drop Rain of Vengeance on them and shower them with Rapid Fire Bombardment. Most enemies will melt within seconds and you will not have a scratch on you thanks to Smoke Screen, Preparation and Brooding.
I have had great success with this build from Torment 1-5. My damage is still a tad low for torment 6, however ,and I have not been able to properly test it. This build does not require any special legendaries to use, but can be improved with them.
Let me know what you think!
(Edited for Formatting and Typing Errors)
Last edited by
Lenekk
: Mar 4, 2014