Hektus
Advanced Member
Join Date:

6/2/2012

Posts:

33

Member Details
I've been gearing up for Act 3 for the past week and, while I have vastly improved my character, surviving in A3 seems to remain out of reach.
My mitigation is very good at the moment; the only thing I am really lacking that I see a lot of others have is a high % block (Mine is 27 on a 2700 Aegis)
So, are any of you able to do A3 with only ~30% block? I ask this because achieving 40% or more block is probably the most expensive gear investment for barbs right now, so I've been hoping to avoid buying such expensive gear until I can farm expensive gear to sell from A3.
My character: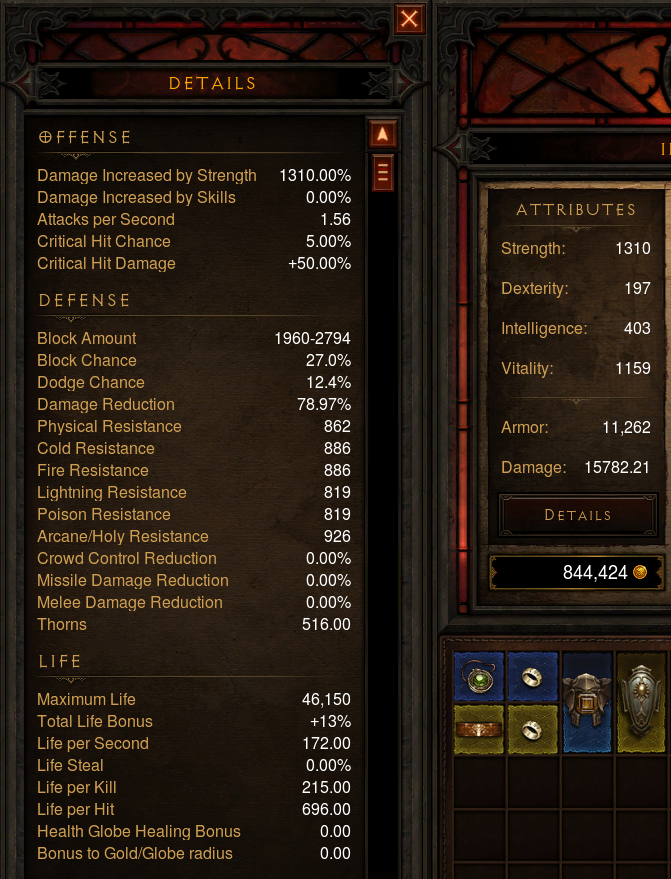 I've been thinking about a ~15% String of Ears as a next possible purchase, but it's hard to justify Melee only mitigation, even if it's big. I may buy it anyways, though, since I can't even survive vs most A3 Champ melee alone, nevermind molten/chains/mortar/electrified/desecration damage.
I realize that my %block isn't the only stat that isn't quite A3-ready, I'm working on improving my RA and LoH...I still have a few item slots to improve. It would suffice to say, however, that getting my RA to 950+ and LoH to 900ish won't make me A3 viable, I can be sure about that.
Barbarian - Garland#1315