Jamoose
High Council Member
Location:

Terra

Join Date:

2/23/2009

Posts:

4,318

Btag:

Jamoose#2376

Member Details
Hello everyone!
This is a build i thought of using, it relies on the berserker rage and the unforgiving passives so these two are a must.
http://eu.battle.net...dhRS!Xhf!YaaaZb
And a second version of the build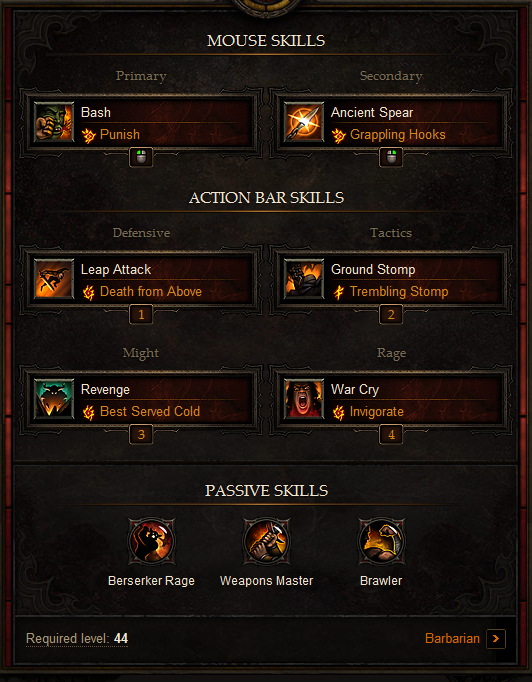 Basically, no fury spenders which lowers the build's ability to actually cause damage. The highest damage comes from Furious charge with battering ram which is 283% weapon damage.
Thats why all the other damage dealing spells are runed to increase the damage. Another decent damage source would be the ancient spear with the no escape passive but this is the part of the build which can be totally changed to be honest. I just like the ancient spear ability, and if it critical hits, the reset cooldown is probably just awesome.
If i use revenge with the best served cold rune, it increases the critical hit chance so if that helps the throwing spear to crit, then gg... if not then ill change the revenge rune to retribution or just get stomp instead but probably not.
Leap attack and furious charge are awesome mobility spells allowing you to stay ontop of the monsters you encounter. With the addition of ancient spear runed with grappling hook, you can hook those annoying monsters back and with a high chance to crit so you can cast it again without cd.
Bash with punish rune should add a nice 18% damage to all skills too so with berserker rage thats 43% to damage.
Additionaly, you can swap out bash for fury with maniac rune or cleave with broad sweep. But since we have revenge, then cleave is useless imo so its either fury or bash, i chose bash because of the global 6% damage that stacks 3 times.
So yeah, i think its an awesome build and im sure some of you will troll me for not using any fury spenders but hey, this is the point of this build.
.