Ardikus
Cantor
Join Date:

8/2/2011

Posts:

636

Member Details
As most of us already know, one of the main reasons for Inferno difficulty to be equally scaled in level and difficulty across all acts is to provide players incentive to play through all stages of the game to achieve loot. In Diablo 2, there were obvious ways that were more efficient to get good loot, namely Mephisto, Pindleskin, and Baal runs. It's not too far fetched to think that bosses are going to drop the best loot in the game, no matter what, because they're the hardest things to kill. Risk should equal reward, right? If this is the case, and once I get the waypoints to all good bosses in Inferno mode, why should I even bother playing through the other dungeons and areas in the game?

Two words: Loot Goblins (Loot Bandits?). I've noticed in a few streams and videos that these little buggers appear inside dungeons in what is a seemingly random fashion. Once you start hitting them, they spew gold all over the floor, and if you manage to kill it before it runs away (not very hard to do, at least in normal difficulty it seems) it will drop quite a lot of useful loot. In the few times I saw these things go down, they dropped ~2 blue items, page of training, scroll of companion, and a few other white items.

What's up to speculation is if these things have the potential to drop the best loot in Inferno difficulty, like bosses can. If they can drop rare items, that is at least salvageable loot for crafting materials, which I'm sure you're going to want a lot of.
MONK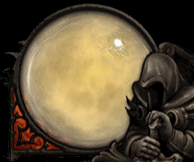 SPUNK