Mephisto's Lament
Que-Hegan
Join Date:

6/28/2008

Posts:

3,247

Member Details
Well, as one of the most hardcore Diablo players ever, knowing practically everything, and playing the game for over 8 years, I would like to share my take on most things that I've read about, or encountered in the passed few weeks. If you want to know a hardcore player's POV, a player who isn't blinded by nostalgia or bias, then read on. If you're looking for Blizzard bashing and calling them incompetent careless idiots, then read no further.

I: Health Globes:

Who can forget the potions? No one, I reckon. They were just great, minor, greater, super, rejuvenation, full rejuvenation, they were just awesome when you go bashing through hordes of enemies, and the gradual recovery of health/mana, made for a harder gameplay at times. The way I see health globes, is a more advance thing, but doesn't suit the Diablo world much. Diablo is set a long while ago, everything isn't "new", you have no guns or advance gadgets in the game. Globes seems out of place, whereas potions just add a little something more to the epicness of the game, if you know what I mean. Globes can make the game easy, but maybe too easy ? I don't know really, we will just have to wait and see, but integrating potions, and an occasional globe drop would be far more satisfactory, if you ask me, I wonder how many type of globes we will get, by the way.

II: Music:

Music is a very very integral part of Diablo. Who can forget the bone chilling music of Tristram, or the exciting music of the Harem? They all add that nostalgic feel to games, they all add to the greatness of the gameplay, they all add to the fun of the game, and they all help create a well rounded magnificent title not bound by a single good thing or trait, but with multiple. They shouldn't just stick with one music type either, the music that plays at the beginning of the gameplay video is just great, but gets bland and boring after a little while. Diversity in tracks is a must, and adds more value to the end product. I just know that the guys working know this, and if they can get us anything remotely similar to the music of the previous titles, it would just be grand.

III: The With Doctor/Necromancer Issue:

Well, I know the Necromancer is a great character. I didn't play with the Necromancer, but I know how awesome a character he is. Not to undermine all the Necro players, I played the Barbarian and the Assassin, and I disliked the fact that they kept the Barbarian. The reason to why I say that is because I'm not buying a tweaked version of Diablo 2, I'm buying an entirely new game, that can offer the same "experience" that the previous titles have put forth, but not the same everything, because I could just get back to play Lord of Destruction and bore myself to death with it. The With Doctor seems to be pretty dang awesome. He can be absolutely formidable in parties. You'd get the Barbarian bashing everyone, with support from him, and God knows which other characters. The Necromancer was awesome at that as well with his useful spells, but come on, we need something new, something completely different, and that's portrayed in the Witch Doctor. Don't be afraid of change, embrace it, maybe you will like what's put forth more than what you wanted. I think we're all just stuck in a pit called nostalgia, and just want a revamped Diablo 2. That's impossible my friend.

IV: Items:

I won't lie, but I absolutely hate the single slot option. Where an axe would take up the same space as a ring would, that's just absurd. I hope they aren't going to do that, I could get that playing WoW. Diablo 2 had over 5000 items if I'm not mistaken? Set, unique, rare....etc. I can only hope they add those great factors to Diablo III, in their own unique way. They had rune words and socketing in the old one, and it would be great if something in that gist would make a comeback. I also wish that vendors would have more valuable items available for direct purchase, because I thought they were pretty much useless bar potions, scrolls, and repair.

V: Graphics/Art Direction/Light Radius...etc:

Look, I didn't know which I liked more; the PSP'd versions of some screenshots, or the actual things. I have come to the conclusion that what Blizzard are working on is the more reasonable, and better approach. Darkness isn't your friend, and doesn't enable you to see everything. On the other hand, everything being too bright takes away from the game. Just like if I wanted a dark gray game I can get GoW or whatever, I can get Barbie and WoW if I wanted a really bright game. In my opinion, I would go with what Blizzard is heading towards, but the lighting should be dimmer. Who said it can't be darker, but WITH the colors? Instead of putting it in day time for example, keep it at night. Colors don't go away at night (mind you, this is a mere example, I don't mean keep the game at night, and skip daytime). More color, less lighting, where the light radius would just put more emphasis on the coloring and textures. Look at Diablo 2, it's really dark, but the colors ARE STILL THERE. With the advancement of graphics and everything, I would think that it can stay dark, yet stay just as colorful and detailed. I hope that made sense to you guys.

Those are just some major issues I wanted to talk about. I may have forgotten some stuff, but I will add on to it if it comes to mind. Hope that was a good read for you, take care.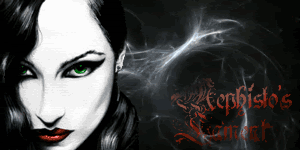 Rise and rise again, until lambs become lions