Supersoldat
Zealot
Join Date:

6/29/2008

Posts:

59

Member Details
A lot of people are having a fit saying Diablo 3 is inspired by WoW, the gaming world's Anti-Christ, but I think they're very wrong. No, Diablo 3 borrows far more heavily from God of War, the gaming world's Jesus, and this can only be a good thing. God of War had brightly lit environments, floating orbs and magical powers, all things many people hate about Diablo 3, and yet was one of the most visceral, captivating and downright fun games I've ever played:
This is Diablo 3:

And this is God of War: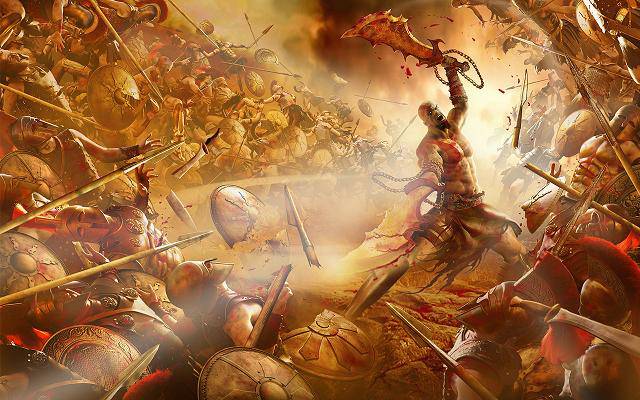 So, apart from the obvious, here are a number of ways in which Diablo 3 takes after God of War. I'm assuming everyone has seen the gameplay video so they'll know what I'm talking about without me desperately searching for a good Diablo 3 screenshot. Not everyone has played GoW though (shame on you!) so I'll post some images of this so you know what I'm talking about:
1. "The stench of Ghouls"
As soon as the Barbarian enters the dungeon he is assailed by "Ghouls" which climb up the walls from below. This was the first things that reminded me of GoW: the way they climb, move and look is very similar to the "Undead Legionaires" Kratos must face! I'm suprised they're not infringing copyright law!
2. It's not "violent" - it's "visceral":
Our Barbarian litterally smashes his foes to pieces, blood and gore flying in all directions. Later in the gameplay video we see bloated zombies exploding in showers of eels, maidens exploding in showers of gore and a giant quadrapedal nasty biting the Barbarian's head clean off and throwing the rest away in a shower of Barbarian juice. I shouldn't have to explain how this is God of War, a game where you constantly disembowl, blind and mutilate anything that gets in your path.
3. Shiny baubles:
God of War is full of shiny baubles: health shiny baubles, mana baubles, Rage baubles and experience baubles: Kratos doesn't need elixirs: his awesomeness is such that he tears his enemies to bits and uses their life force to keep fighting! Granted the ones in GoW are much cooler and shinier looking that the Diablo 3 ones, but it's a work in process! Give them time and the orbs in Diablo 3 will look cool too.
4. I'm a magic man - I have magic hands:
Some people think that being the biggest badass ever to have lived, died, lived, died and lived again means that you can't shoot lighting bolts out of your armpits or pull giant magical hammers enchanted with evil spirits out of your rear but Kratos proves otherwise. These moves make him versatile, able to tackle enemies from range as well as close up, use tactics. You don't have to sit imobile in front of your enemy and take it in turns to hit eachother to prove that you're a man: nobody's going to accuse Kratos of having anything but a mammoth apendage.
5. Epic Monsters:
Epic monsters are what God of War is all about, and when I say epic I mean really really big. Over the course of the first two God of War games you'll kill a massive multi-headed sea serpent, a massive armoured Minotaur and the Collosus of Rhodes among others. Now in Diablo 3 we can see the Thousand Pounder and the aforementioned hideous Death-on-four-legs monster!
6. Coz I was blinded by the lights:
In God of War you'll repeatedly tear enemies to bits, smash their heads in doors and against walls, drown them in ponds, burn them alive, pull off their skulls and... but I digress. Despite all this darkness the game is often very bright and colourful, with a lot of bloom. This made the environments far more interesting and pleasing to the eye, because of the variation in mood the tempo, but Kratos's Greece is about as far from Care Bare land as it is possible to be.
7. No, not that sort of
strong:
Diablo 3 will feature stronger character personalities who drive the story, participate in conversation, meet old friends and express opinions about their situation. Kratos doesn't so much drive God of War's story as violently pull the driver out, break every bone in his body, empale him on a spike and then lead the police on a high speed chase through 12 states!
Conclusion:
Obviously I love God of War, and so while I achknowledge that making a good game's sequel more like another good game is no recipe for sucess, the game that Diablo 3 is emmulating with it's colour and magic is not WoW but God of War, and in my book it's not possible to be too much like God of War
Here's a trailer for God of War 2
http://www.youtube.com/watch?v=gwaUIShOM54
What are you waiting for - flame me already