Dartaris
Advanced Member
Location:

Florence

Join Date:

6/26/2008

Posts:

44

Member Details
Hey all,
Just a small introduction since i'm relatively new to the forums. Name is Aaron, most of my gamer buddies call me Dart. I've been a huge Diablo fan since i was in the 5th Grade, i'm not a Sophomore in College. I've been reading around here the past few days regarding many peoples take on the Art Direction that this game is going in. I would like to post my opinion in a more constructive post, making it easier to get my view across.
An Unofficial statement is that it seems the majority of the people on this forum are not overly thrilled about the Art Direction, or satisfied at best. I personally am thrilled. I've seen more threads/posts about how it should be changed, or why a person does not like it, than i have those who have.
Now before those who disagree with me go on a tyraid of accusations about my views on WoW and its Art, i want to let you know right now: Yes, i did play WoW, I no longer do. However, The art fit the world for what it was, and was right for it.
A lot of peoples view on the art direction seems to be that they wish it to be more dark and gritty. While this is not too complicated of a demand, it seems to be made at a rash time, considering the game was only announced Yesterday morning. Obviously the game has been in the works for some time, but on the contrary it isn't near release, and shouldn't be considered a final product.
I've rewatched the gameplay video about 3 times this afternoon in order to get a better grasp on what others have voiced. I took in consideration many comments made on the forums about how it was looking cartoony, or not "Gritty & Dark" enough.
I would like to express my own critique of the games art direction and graphic style. So first i'm going to bring you to this picture.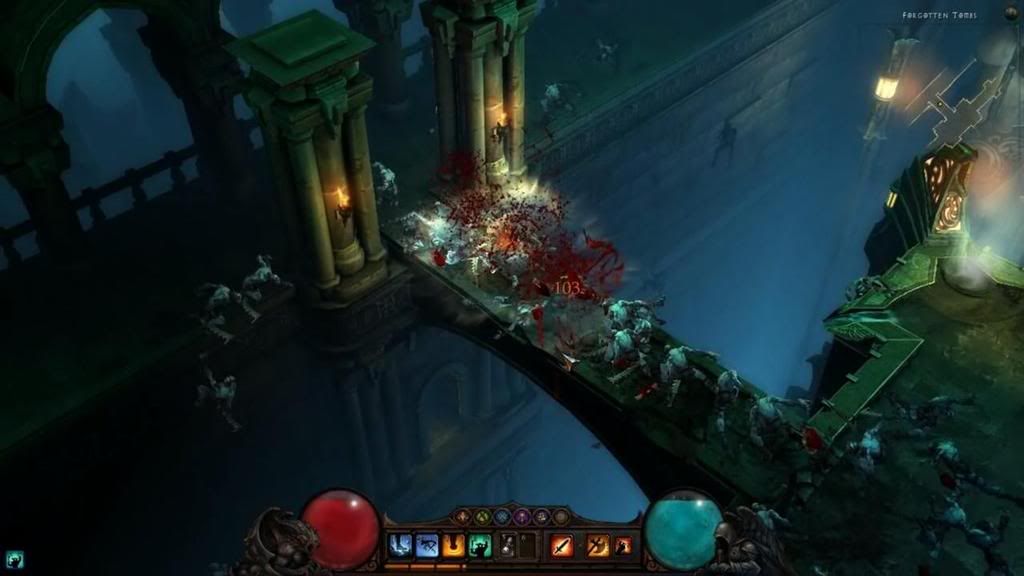 Personally, from the first section of the video, i believed the Art direction was utterly perfect for the world of diablo. A Damp, dark dungeon. Fog and mist everywhere in site, with dimly lit light-sources provide a proper dungeon feel. I look back to areas in Diablo 2 in which this could slightly compare, such as the jails in Act 1. I personally get a more eerie feel than i do with the jails. It may be that i've done them so many times if it werent for the randomization i could do it with my eyes closed. However, i believe its because we're in a new day and age where graphics have improved over Diablo 10 fold. The light radius that we saw in the previous game isn't as important, and the developers seemingly wanted to show a more in-depth look to your surroundings.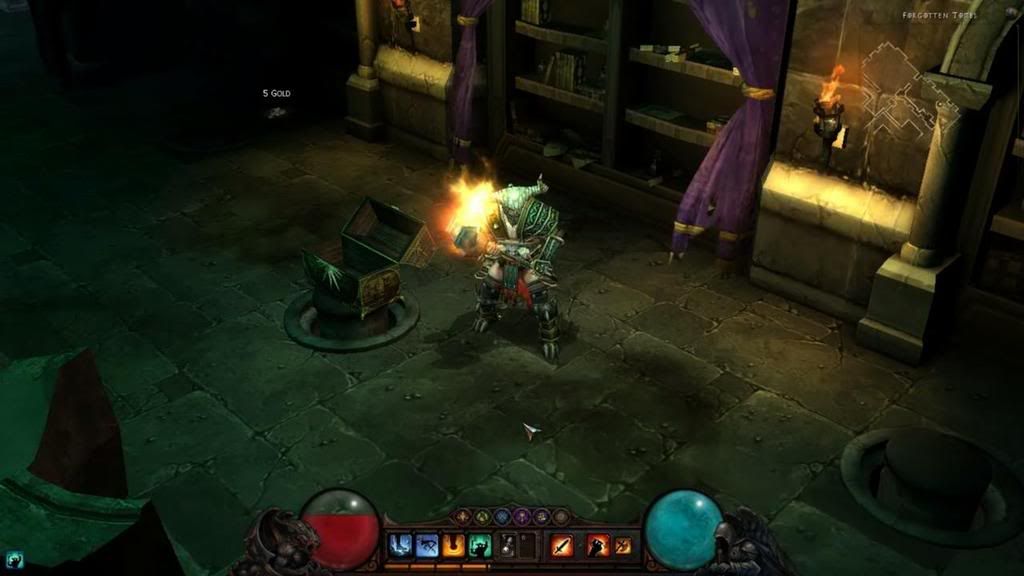 I really don't have much to say about the armor style/direction and i'm personally pleased with it. I recall a simliar helm in Diablo 2, and the armor fits the Barbarian Perfectly.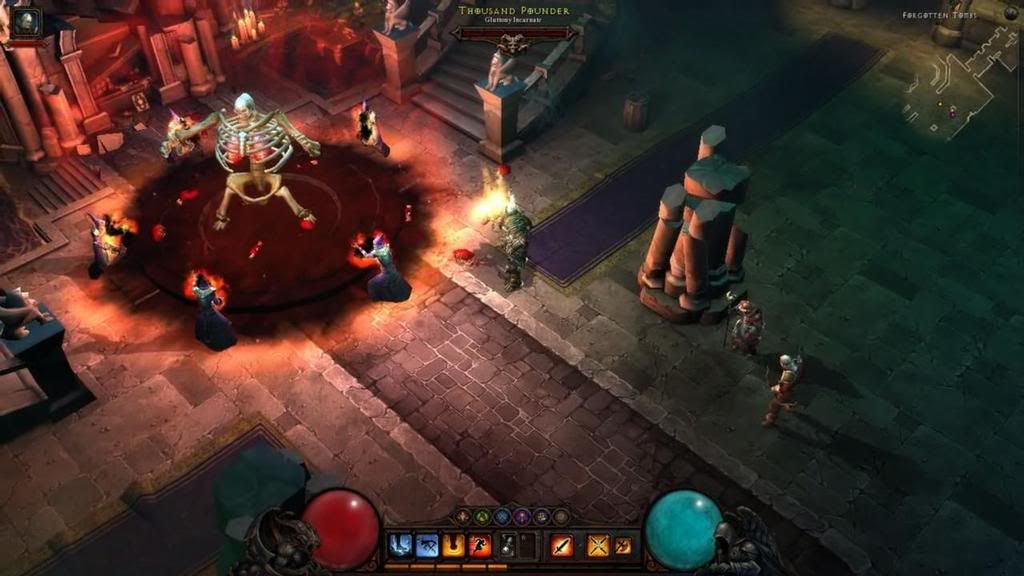 The summoning of this "Gluttony Incarnate" i found very appealing. I really want to tell you how much this Does NOT compare to WoW/Warcraft in any form. Fire, blood and brimstone were not art styles chosen for the Warcraft Universe, its a much more passive art style without much violence such as dismemberment, guts and gore.
Now on to the outside environment.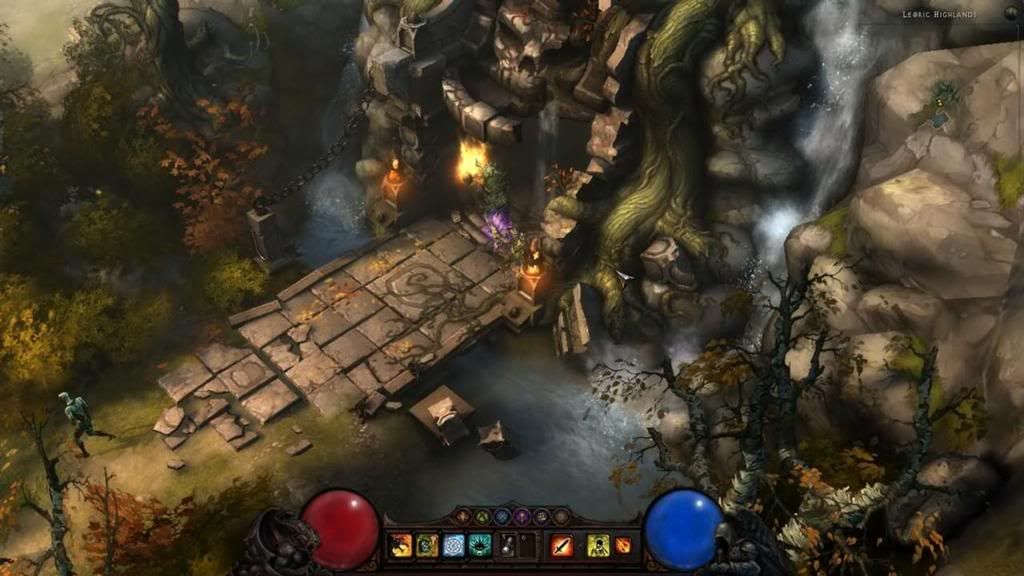 Now this is where i can see people saying its not Diablo art. However, this game is taking place 20 years after the events of Diablo 2. Much of the world sees it as myth and legend, and the world has had time to recover from the onslaught of demons, beasts and other creatures. The background almost seems to be a painting in some points and the rockwall seemingly pastel in color. If you compare this straight to Diablo 2, i can see where you think its pulling away from the Art style. Personally, i don't think i would have been too pleased if they painted the same grount texture over a gigantic section of land, randomly placed dead trees, muck holes, and rock walls for bounderies again. I really find it visually appealing.
Back to the Dark/Gritty Standpoint VS World of Warcraft
You will NEVER see this in World of Warcraft. WoW is ment for a much broader audience, and i believe Blizzard is trying to do us well by sticking to what they believe the gruesome world of Diablo really is. Its a lush, diverse world, that happens to be unfortunate enough to be ravaged by the great evils of hell.
For yourself, i personally believe at this point in time, the game should be looked at objectively. There is plenty of room for it to change, and i full-heartedly believe that any changes made, or not made to this game, are going to be made by Blizzard to ensure the fanbases interest in the game.
Till Next time,
-Aaron (Dart)
Stay awhile and.... No one ever listens....