proletaria, on 17 October 2011 - 05:59 PM, said:
1. Libertarians: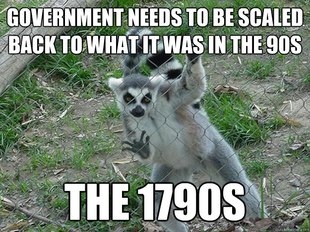 -No safty net of any kind
-No regulation to keep corporations from becoming the plutocratic dictators we already accuse them of being
-No foreign policy outside of non-intervention
-LOLGOLDSTANDARD
-Many, many, lunatics support this party.
-Did I mention the lolgoldstandard?
I don't agree with everything the libertarians stand for, for example we all know corporations left to their own devices will do what's best for their bottom line and piss on anything that cuts into it just to be more competitive. Anyone who has been in the workforce will eventually see this first hand when they are encouraged to skirt certain restrictions or simply look the other way. I would also argue private property which should be public leads to extortion, the Golden Gate bridge is perfect example of modern day troll bridges where the owning company charges criminal rates just to cross vs. the far less expensive public Oakland Bay bridge.
However, I would point out our country operated for nearly 200 years quite successfully in a system that more closely resembles the libertarian ideals then what the democrats or republicans have morphed into the abominations they are today. We had no safety net, few regulations, and no foreign policy outside non-intervention. OK granted the world is more complex, we're no longer running out into the woods and shooting dinner, and retirement savings plan is probably a good thing.
I would however argue that the government and Wall Street should not be able to touch our retirement, but at present they can and do. Most peoples 401/K's are wrapped on mutual funds chasing public companies on the stock market, that's f***ing insane. Social Security is and has been getting robbed for years by the government, by law they take our money and buy into the largest bubble in history, the US T-Bill bond market, and worse yet they take the surplus income and use it to pay for other government expenses. For those who doubt this read point 17 our GAO's own documentation:

UNITED STATES GOVERNMENT ACCOUNTABILITY OFFICE SOCIAL SECURITY REFORM Answers to Key Questions - May 2005
On Page 17 http://www.gao.gov/n...ms/d05193sp.pdf
I submit your point on the gold standard is not entirely accurate; for nearly 200 years, spare times of war when the government borrowed to pay for the wartime efforts, the US didn't operate on a gold standard. Gold and silver was money, all currency back then were simply claim checks to redeem for physical gold or silver. Over time the fractional gold standard (which I agree sucks) slowly replaced gold and silver as money. People really misunderstand what function gold and silver actually perform in money, all this Keynesian education is to blame. Money is just an idea and it's not the metal that makes the difference, it's
what the metal does
that makes the difference.
It sets a hard monetary base
It restrains the Treasuries printing presses from printing too much currency.
It controls interest rates
It very simply controls trade imbalances between countries
It is difficult to extract from the ground making it rare, it is also not easy to forge
It is non corrosive fungible, divisible, and easy to store
It is a store of wealth
It keeps the corrupt paper manipulators in check better (not perfect but better)
Just so everyone understands my position here, I'm not a gold bug, if chocolate bunnies could do that, I'd be all for chocolate bunnies. I'm for any solution that accomplishes the above, I just don't know of any other solution right now that does.
The Euro is falling apart now and all the kings horses and all the kings men are hopelessly and desperately trying use paper currency trickery to put Humpty Dumpty back together again. This economic entire crisis is a result of the corrupt playing paper manipulation games in an unfettered paper currency environment. If gold were still in our money this crisis could not have ever gotten this far out of whack. For those who argue we can't bring it back, not true, all the Treasury has to do is revalue it to cover every dollar ever printed, it still sits on the FED's books at $35 dollars and ounce despite the street price of around $1800 an ounce. Gold has in fact been revalued through the markets to cover every dollar ever printed twice in the US alone in just the last 100 years. I think we'll see history repeat.
Edited by VegasRage, 09 December 2011 - 04:26 PM.