Goblins vs Gnomes: 61 New Cards, Upcoming Balance Changes

Heroes Technical Alpha Patch Notes: December 2, 2014 - Jaina Proudmoore


Argi the Inter-goat-lactic Pet and Grinning Reaver Mount Now on Sale
Legendary Workshop Livestream
There will be a livestrem event next Tuesday, December 9 at 11.am. PST, where some game developers will talk more about the final community idea selected from the Legendary Workshop that happened on Blizzcon. They will also discuss which ideas were considered viable by the team and which were not - and why. There will also be a Q&A at the end of it, so make sure to tune in!
Mark your calendars, nephalem!



We heard a lot of great questions from all of you following our Legendary Workshop at BlizzCon, and we wanted to take the time to address those questions, plus a whole lot more!



So, next Tuesday, December 9 at 11 a.m. PST

, we'll be hosting a

Legendary Workshop

livestream on our official Diablo

Twitch channel featuring lead technical artist Julian Love, associate game designer John Yan, and community manager Brandy "Nevalistis" Camel.

In addition to talking more about our design team's goals for the Legendary Workshop at BlizzCon, Julian and John will also discuss how they selected the final community idea to use for a new Legendary power, which ideas for Legendary powers were viable and which weren't (and why), and what ideas from the community players may see in the game in the future.

At the end of the discussion, Julian and John will also take questions from community members via Twitch chat. If you watched the Legendary Workshop at BlizzCon and still have questions for our designers, this is the stream for you!

---

To hear the discussion and share your questions with our design team, simply visit our official

Twitch channel

on Tuesday, December 9 at 11 a.m. PST. Come, stay awhile and listen.
---
Future Raekor Changes
The Legacy of Raekor set for Barbarian has caused some issues in both solo and group play. It can cause some major video lag due to the massive clutter of monsters, and in group play it feels like the Barb just grabs all the fun and runs away with it. Due to that, a few changes are planned to improve the set while solving these problems - the Dreadnought rune will be reworked. Check them out!
Originally Posted by Blizzard (Official Forums)

Not because it's OP - but because it's insanely frustrating to be grouped with a barb using this set. Far too often I've been in a 4 player game where a Raekor barb zooms off into the distance gathering all the elites with no way for me or the rest of the party to catch up.





I'm absolutely fine with barbs having nice things - except when those nice things are annoying to everyone else.





Sets should provide synergy within a party, not troll the party.

This is actually pretty offensive to us as well, but we don't think the problem is with the concept of Raekor's. When you observe the gameplay as a teammate, it kind of reminds you of that kid on the playground who would take the ball and run with it rather than passing it around and letting the other kids play with him.





That's not a great feeling, especially for the rest of the party. It doesn't live up to the spirit of multiplayer or create good teamwork opportunities. We're looking to fix this by redesigning the Dreadnought rune and the Raekor's set. Here's the current plan:




Furious Charge


Dreadnought


Has been redesigned. Now grants Furious Charge two charges.

The Legacy of Raekor


2-piece bonus: The first enemy hit by Furious Charge takes 100% additional damage.
4-piece bonus: Furious Charge gains the effect of every rune.
5-piece bonus: Enemies hit by Furious Charge take 3000% weapon damage over 3 seconds.

The gameplay of zipping back and forth across the screen and dealing huge amounts of damage is a lot of fun, and we want to preserve that. What we want to combat is how this gameplay was downright incompatible with multiplayer. Rather than charging forever forward, it should feel good to charge through existing groups before moving on to the next pack, and it'll be even better if your buddies line 'em up for you to knock back down. This change should be in the next PTR patch, which we're hoping to get to you shortly. We look forward to seeing your feedback!
---
More Sunwoko Tweaks
The Monkey King Garb set for Monks has received some significant improvements in the latest PTR patch, but it looks like there are additional quality of life changes planned. Instead of debuffing enemies so they take 500% increased damage from some spenders, your hero gains a buff that increases the damage of those spenders automatically. Check it out!
Originally Posted by Blizzard (Official Forums)

We've got another update coming regarding the Sunwuko set. A slight change will be coming to the 4-piece bonus in the next PTR patch:




Monkey King's Garb


4-piece set bonus has been slightly redesigned


When your decoys explode, you gain a buff that increases the damage of Cyclone Strike, Exploding Palm, Lashing Tail Kick, Tempest Rush, and Wave of Light by 500% for 3 seconds.

This should help make this damage boost feel a little less clunky and more reliable to use in practice. As always, thank you so much for your feedback and we look forward to hearing your thoughts as we move on to the next phase of PTR testing!
---
Diablo Gear on Sale
Blizzard is holding a one-day sale for all Diablo related gear on their store. Looking to get that Treasure Goblin plushie? How about that Diablo III Mug? Now might be the best time to do so!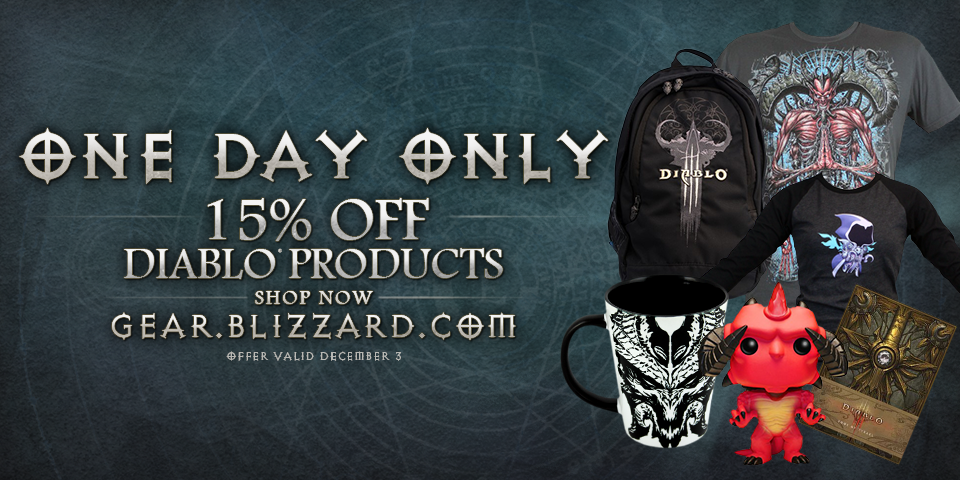 Originally Posted by Blizzard (Twitter)

Deck the hells with your favorite Diablo merchandise, now 15% off!

http://

bit.ly/DiabloMerch

#

CyberWeek

#

BlizzardGear