There seems to be a lot of information on the

Blacksmith Artisan. We know how we will meet him and what services he will provide. With the use of the salvage cube, we know that we will break down weapons and armor to get materials for the Blacksmith to create new items. Through leveling and found recipes, the Blacksmith will be able to create better and better gear for you character. All of this we have known since their announcement back at the 2010 Gamescom.


While we know all of this about the Blacksmith, we know very little of the

Mystic and

Jeweler. We do know that the Mystic will offer us a wide variety of magical services. Between potions, scrolls, magical weapons, charms, and

skillrunes the Mystic will cover all of you magical needs. The Jeweler will offer his services in rings, amulets, and gems by upgrading and switching them out of your gear. Unfortunately, that is all we know of these two other artisans. Many questions remain like what will the Artisans need to craft their items? and where will we get these materials?


I recently asked Bashiok on the matter to get some answers.

Official Blizzard Quote:
Quote from

ScyberDragon: @Diablo Why do we only know details about the Blacksmith? Are the other two still WIP's?
Diablo: @Scyberdragon Details, you mean as far as the specifics of what each Artisan can do for you?
Quote from

ScyberDragon: @

Diablo

More like how they work. What materials do they need to create gems, rings, enchantments, charms? How do they level up? Why?
Diablo: @Scyberdragon Mostly crafting revolves around salvaging, although not entirely.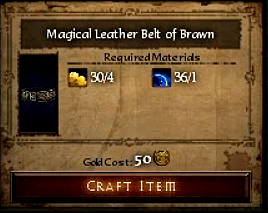 With

crafting being a gold sink in Diablo III, the artisans will require gold for almost all of their services. However, it seems as though the salvage cube will be used for more than just breaking down weapons and armor for the Blacksmith. As Bashiok noted, salvaging will be the focus for most crafting. With the Mysitc, it's possible that staffs and wands can be broken down for magical resources that will be used to craft these same particular types of items. If a charm is found with unwanted attributes, they may be able to be broken down to create new charms with different attributes. Even unwanted skillrunes may be salvaged into another resource type that the Mystic can use to create new skillrunes. This idea was hinted upon when Blizzard mentioned you would be ale to "combine" skillrunes to create new ones, helping you to create skillrunes that you find more useful for your character build.


It can also be assumed that the Jeweler functions in a similar manner. Rather than selling unused rings and amulets, you can salvage them for materials to create new ones. This was actually something we saw in Diablo II with the

Horadric Cube. You were able to transmute three rings into one new amulet and vice versa. Again, this illustrates how the team is using this new crafting system to replace the cube of Diablo II. It still remains unknown, however, if the same mechanic will be used on gems as well. While upgrading will need multiple gems of the same type, it may be possible to salvage unused gems for materials to create rings and amulets as well.



While much of this still remains a mystery, it appears that the team is staying tight lipped on one more aspect of the artisans.

Official Blizzard Quote:
Diablo: @ScyberDragon Details on leveling up/specialization, we're not saying yet.


We know that all of the Artisans can be leveled up, but just what does this do for us. Most likely, only high level Artisans will be able to craft high level items. Specialization is something we have known for the Blacksmith; focusing your Artisan on axes, swords, or maces depending on your character build. What will the specializations be for the Mystic and Jeweler?

UPDATE:

Bashiok has given us a little more infromation on combining gems. It seems that now, there will be more than just the first five levels dropping so you will not be needing 100,000 level five gems to get to that fourteenth level. Along with this, an easier trade system seems to be another way to help players sell and trade for gems.


Official Blizzard Quote:
We'll probably be dropping gems a couple levels further than the 5th (as previously stated), which should help. We also want to make sure it doesn't become a pain to have a ton of gems sitting around waiting for another one to upgrade, so there may be some crafting solutions that help with that. But more importantly we expect a more robust trading system will make it much more feasible to sell off a ton of gems, earn that wealth, and then buy back into gems later when you want - and on the buyer side of that, if you have some gems and just need one more to upgrade, it will be quick and easy to go get one for a reasonable price.