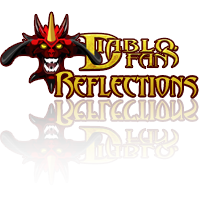 News/Development

The month of September started off slow on the development news. The first interesting post was about the

empty space

on the inventory screen from the screenshots from

Gamescom

. Bashiok mentioned that the area where the player's hero is pictured was actually a cover-up over a mechanic that they had not revealed yet. Just what this mechanic is up to much debate. For more discussion on the mysterious new mechanic see:

A New Game Mechanic

by

NorthAmericanPenguin

.

The next big news in the development of Diablo III came when a user on Battle.net discussed the followers from the first gameplay video released. Bashiok responded by explaining that those archers were "

throw away

" helpers and not a system they are using to replace the mercenaries of Diablo II. Unfortunately, he did not reveal any information on just what they are planning as the replacement. Some users have discussed a couple of ways of improving on the mercenaries. One users idea is to add a skill tree just for the mercenaries. For more discussion on this idea see:

Hireling's Skill Tree

by

DarkMagicc

.

While no new information was given out about the

Artisans or

Health Globes, both mechanics have officially been updated on the Diablo3.com website. You can now read up on both of these mechanics and just how they will work and be implemented in Diablo III. Hopefully, the addition of these pages means that both the Artisans and the Health Globes have been finalized for the game. See: New Crafting Section and Health Orbs Hit Site by Magistrate.

While the first half of the month did not reveal much, the second half was a different story. Skills were talked about in many different aspects. From new skills being made and worked on to the amount of skills available, many new topics about skills have popped up. Perhaps the biggest news that affects skills is the announcement that players will max out at level sixty. With the new skill cap, no content will be removed, only that the curve of leveling up will be different from Diablo II and by the end of Hell difficulty, players will be around this level. For more information and discussion on this see: Level 60 Cap by ScyberDragon.

As mentioned, much more information has been shared about skills and many users have started other interesting threads about them.


Community



Starting off, DiabloFans has gone through a small change. First off, there has been rewrite of the Forum Guidelines. Please take a quick moment and look them over. We do our best to create a thriving community and part of that comes with creating guidelines. Next, we have added another member to our staff. Long time resident of DiabloFans, Mephisto's Lament has been brought on to be a community representative and will be running official DiabloFan's polls and other interesting contests. DiabloFans is also looking for more users to become staff members. If you are interested please see: Uncle Sixen Wants You for more information.

Last month, we saw the submissions to the Create your own Monster contest. With the contest now over, we have the winners of each category. Congratulations to ArtofTy for his awesome art submission, Hyralism for his amazing mechanics submission, and Umpa65 with his astounding lore submission. And a special thanks to everyone else who participated in this contest.

Perhaps this biggest news to help bring the community together was the Diablo II Ladder Reset. Sparking some much needed enthusiasm for our beloved ten year old game, many people have been starting over with this new ladder.

Lastly, between the Epic Scene Contest and the ladder reset, why not take a minute and upload some screenshots of your character using their skills into our Wiki. We are still needing a lot of help getting pictures added for each skill. For more information see: Skill Page Screenshots by Kickin_It.


Well, that wraps up one more month here at DiabloFans. With Blizzcon now right around the corner, there is bound to be a lot of new information coming out. Last class, skills, resource systems, Acts, monsters, bosses, story, and mechanics are all possibilities of news we will get at this year's Blizzcon and we here at DiabloFans will do our best to get this information to you as soon as possible.