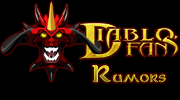 With the Holiday season here, it appears as though we have been given a gift. We have gotten some images of what appears to be the next Act in Diablo III. Showing just how bad the devastation is upon Sanctuary, not even Santa and his workshop are safe from the horrors of this Evil.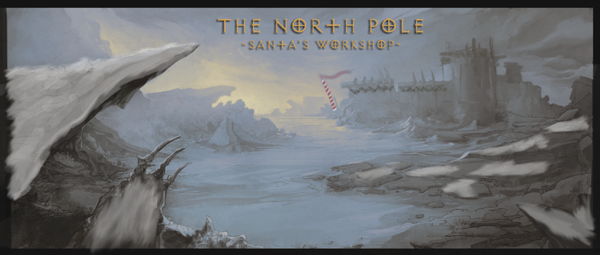 In the frozen tundra at the North Pole, Santa has been safely hidden from the world. Working with his elves, he creates toys to share with all of the children of Sanctuary. Perhaps the embodiment of purity and goodness, his generosity has struck a particular sharp thorn in Evil's side. Eager to show the whole world just how powerful the

Denizens of Hell
are, they launched a major attack against the jolly old man. While his elves put up a great fight, the demise of the happiest man in the world was inevitable. Soon his elves became tormented and twisted at the exposure of such evil. They one by one turned on themselves and even the fat man himself. Admitting defeat, Santa slipped out the back on his sleigh, leaving his own personal sanctuary. The monsters took over his dwellings stripping it of almost all remnants of Christmas. Santa flew with his eight reindeer until he found a band of Heroes looking to rid this world of the Evil that had taken his home. Informing the group of their whereabouts, they traveled to the most Northern tip of the world. Crossing frozen glaciers and blizzards, the team had finally made it to reclaim Santa's workshop.


Pictured left is a screen shot from the new area. At the entrance of Santa's workshop, the Demon Hunter is fighting off a horde of the corrupted elves. One must be careful when fighting these green clad monsters. They wield sharpened candy canes that can pierce through the toughest of armors. The cinnamon burn lingers within the player causing fire damage over time.


With Santa busy aiding the Heroes in taking back his workshop, there was nobody to deliver this year's toys. With Christmas now upon us, our beloved Deckard Cain has,
once again
, stepped up to the plate. Donning Santa's hat and red robes, the lore expert carries the book of "Naughty or Nice" eager to read its contents. Too feeble to fight off any monsters, Deckard realized that this was the best way to help in the fight against Evil. For he knows how important it is to all of the Children of Sanctuary to get their Christmas gift. If their hopes were lost in this last joyous holiday, then all hope for a victory against these demons would be lost.
DiabloFans would like to wish everyone a Merry Christmas and Happy Holidays.



I would like to conclude this Holiday post with a poem. Found in the writings of Abd al-Hazir, entry 1225:





Twas the Night before Christmas
Twas the night before Christmas, when all through my house
I was constantly stirring, clicking my mouse.
My Battle.net was logged as I waited and stared
In hopes that Diablo 3, soon would appear.


Giving up hope, I went to my bed,
While visions of Sanctuary danced in my head.
Killing hordes of monsters and looting a cap,
I awoke only to find, it was just a long nap.


When out on the lawn there arose such a clatter,
I sprang from my bed to see what was the matter.
Away to the window I flew like a flash,
Tore open the shutters and threw up the sash.


The moon on the breast of the new-fallen snow
Gave the lustre of mid-day to objects below.
When, what to my wondering eyes should appear,
But the Lord of Terror, and eight fallen to fear.


With a mouth full of teeth, and fire aglow,
I knew in a moment it must be Diablo.
More rapid than eagles his fallen they came,
And he roared, and shouted, and called them by name!


"Now Basher! now, Crasher! now, Smacker and Slashen!
On, Vomit! On, Stupid! on, on Bomber and Blazen!
To the top of the porch! To the top of the wall!
Now smash away! Smash away! Smash away all!"


As dry leaves that before the wild hurricane fly,
When they meet with an obstacle, jumped to the sky.
So up to the house-top the cursers they flew,
With the chest full of weapons, and Lord Diablo too.


And then, in a cracking, I heard on the roof
The smashing and crashing of each little goof.
As I drew in my head, and was turning around,
Down the chimney Diablo came, quick with a bound.


He was fleshed all in red, from his head to his foot,
And his body was all tarnished with ashes and soot.
A bundle of spikes he had lined on his back,
And he looked like the master, on his forehead a crack.


His eyes-how they grimaced! His spikes sharp at the tip!
His claws were like weapons, his tail like a whip!
His full giant mouth was drawn up like a bow,
And the fire he shot out melted all of the snow.


A fire burned bright, behind his sharp teeth,
And the smoke, it encircled, his head like a wreath.
He had a broad face and looked eager to kill,
He shook when he laughed, the idea gave him a thrill!

His minions attacked, they ran down the hall,
As they ran up to me, I slaughtered them all!
A roar from his mouth and a twist of his head,
Soon gave me to know I soon would be dead.


He spoke not a word, but went straight to his work,
He fired lightning and fire, then turned with a jerk.
A hit with his tail, I fell off of my toes.
And before I got up , up the chimney he rose!

He cracked open the earth, creating a hole,
And slipped down in it, completing his goal.
But I heard him exclaim, 'ere he left out of sight,
"Happy Christmas to all, and to all a good-night!"


I took a look around, shaking my head,
"What the hell was that?" was all that I said.
I took another look and what did I see,
In my stocking was it, my own copy of D3.




Disclaimer: DiabloFans' Rumors are not the officially recognized positions of the staff, management, and/or administration of DiabloFans.