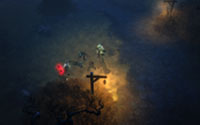 An official and highly entertaining page for Diablo III's contribution to the series, health orbs, has been updated into Blizzard's website. The site update contains all the current information we have on health orbs, and some on health potions, wrapped-up in one adjective-happy corner of the world wide web. If you're still unfamiliar with this mechanic or just need a refresher, check it out here and see here for DiabloFans discussion on it!





Thanks goes to dunhac82 for the speedy PM, our excellent

Twitter tracker

, and Endersgame3 (mrawesome) for the great new thread!