Robrym
Faithful
Join Date:

6/27/2012

Posts:

27

Member Details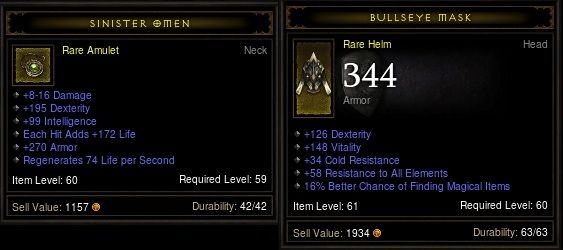 Helm: Dex: 126 . Vit: 148, All resistance: 58, Cold Resistance: 34, 16% Magic Find.
Amulet: 8-16 Damage, Dex: 195, Intelligence: 99, Life on Hit: 172, 270+ Armor, Life por second: 74.
Hey guys, I just check this items on the AH cuz I wants to sell them , but Ah its really overprice right now (Or at least that is what I think) so, if you guys can give me a hand finding the right price that would be nice.