WarlockHolmez

Zealot
Join Date:

9/24/2012

Posts:

96
MrMonstrosity has me inspired after reading his post full of suggestions for Blizzard. I've decided to further investigate the issues with the "loot hunt" to discover solutions.
I want to find really rare items and be able to use them! I want to see that orange glow on the ground and know I have something special, to save for specific builds that could take advantage of it, or for other characters.
How many times have you found a top tier item and kept it? Sometimes I find upgrades for Alts, but even then it's usually worth selling them knowing I can always buy a replacement later. We need a reason to keep items we find.
The intent of this post is to
balance (Not defeat)
Auction House use and Finding Usable Gear from Playing the game yourself.
Link to Diablo 3 General Forums Post:
http://us.battle.net...opic/9793090332
---
The core issues I feel are:
The AH takes all the fun out of finding useful items.
Items found while "playing the game" are Auctioned 99.99% of the time to be able to purchase upgrades, via Auction House.
Finding your own gear and progressing at the rate of the general community is impossible. While this shouldn't necessarily be as fast, the difference is too vast.
Solution: "

Pristine

/

Worn

Items"
Personally discovered items will be considered "Pristine".
Pristine Items gain a % bonus to all affixes.
Pristine Legendaries receive a bonus, special affix.
When a Pristine item is traded to any other account, it becomes "Worn".
Worn items contain the original stats of the item.
A limited number of Pristine Items can be equipped at a time. (possibly)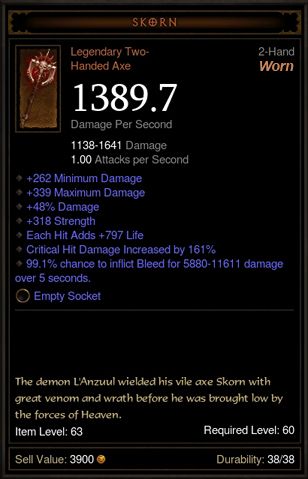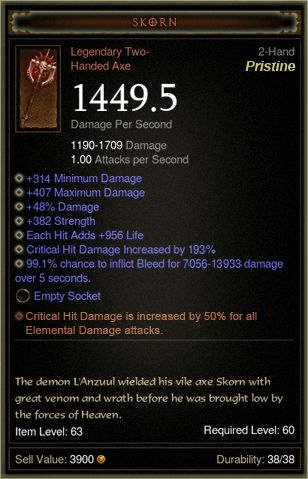 (This example demonstrates a +20% increase to affixes. Yes, I didn't calculate the %damage change. It would be +58%, therefore the DPS would be even higher. I didn't feel like doing the extra math. :P)
Result:
The best items in the game can only be found by YOU.

Finding a specific legendary you want will still be rare.

Finding any legendary may be exciting enough to motivate trying new builds.

The bonus, legendary affix should have a very unique impact on each item, strongly influencing unique builds. (Better affixes than the one that took me 10 seconds to come up with.)

Just like in D2, the playtime required for the best legendaries (uniques), could be a very long time, but it WILL be special when YOU find them.

Collecting gear you find and saving it for later/other builds/characters is possible again.

Purchasing items off the Auction House will still be critical and convenient for quick upgrades and finding/trading gear required for your specific builds.

The loot hunt becomes exciting again!
Other Thoughts:
This is the only solution I can see (or something similar) to having loot YOU find to

occasionally

be better than what you might be able to buy in the Auction House.

High end gear will still be extremely expensive on the Auction House. It's not like a perfect item for each slot will drop for you right away, if ever.

Possibly lowering the drop rate of Legendaries could make them feel more special, with this system in place.

The items we find need to be stronger than traded/auctioned items, or the AH will win

every

time.
---
Criticism:
There has been lots of positive feedback so far as well as some good constructive criticism. I want to discuss some of the criticism and how it might not turn out how it sounds.
The main strongest criticism seems to be that luck will become an even stronger factor with this system in place. That players who find high-end legendaries will be pushed too far ahead. I believe an opposite effect would occur.
High-end drops will always be great (with Pristine or without). But all the low/average value drops won't be and are usually trashed. But with the Pristine system, those items have a chance. Those items also drop much more frequently than the rare, high-end items. Therefore, more lower-end players will be pushed closer to the high-end players because of the frequency of drops. This will actually help close the gap, not expand it, therefore reducing Luck as a factor.
Example:
For every one 1500 dps Skorn that drops, one-hundred 1300 dps Skorns drop (estimating, wouldn't be surprised if it's more). In the current system, the one player gets a great weapon OR great trade, the others get vendor trash. With Pristine, the one player gets a top of the line weapon OR a good trade, and the 100 others get useful items too, possibly many of them gaining decent upgrades, shortening the gap between high and low geared players.
Another very important point here is that lower geared players will be able to close the gap slightly on high-geared players
through playing the game
. It won't be an instant jump like if they upped general loot quality in a patch, because you won't be able to get the upgrades instantly through the Auction House, it will take time.
+1 if you like the general idea! I see a lot of positive responses, but not enough +1s!