M8Harry
Zealot
Join Date:

11/4/2011

Posts:

137

Member Details
Questions for those of you out there in Beta, if you dont mind answering.

How many sounds carry over or are simular in nature to the ones used in D2?

Whats the ambience like, when you just stop in a random spot do you hear much in the way of ambient sounds? if so what do you hear?

How do you rate the atmosphere (granted there is only a small % of the game being tested atm)? (i know the answers will vary from person to person)

In your opinion is/are any sound(s) used too often?

Reason for asking a guy at work claims to have Beta access and he said it was lacking atmosphere and the sounds were "a bit bleh" SO just asking as this guy has on occasion told a few tall stories, and yeah even if he is telling porkie pies the questions stand so please any answers would be appreciated.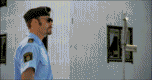 Super Cop! He knows where you live, he knows where you sleep.